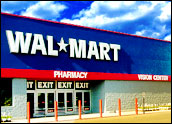 Hard on the heels of the recent announcement of Apple's iPhone trade-in program, Walmart on Tuesday announced a smartphone trade-in program of its own with up to US$300 in-store credit for the old devices turned in.
Specifically, consumers can get an immediate credit of between $50 and $300 for more than 100 mobile devices. An Apple iPhone 5, for example, can earn $300, while a Samsung Galaxy SIII can bring $175 and a Samsung Galaxy S2 would earn $52.
Handsets must be working and undamaged. The program will begin Sept. 21 at more than 3,600 participating Walmart stores and Sam Club's locations nationwide.
"Smartphones have become a part of our customers' everyday lives, and as new devices launch more frequently, trade-in programs are becoming more popular," said Steve Bratspies, executive vice president of general merchandise for Walmart U.S. "More and more, customers are choosing where they purchase new smartphones based on where they'll get the best value for their trade-ins."
'People Want the Newest Features'
Credit earned through the new trade-in program can be applied either to a new smartphone with a two-year contract from AT&T, Sprint or Verizon Wireless or to select devices with prepaid plans, including Walmart's own Straight Talk.
Such programs are becoming increasingly common. Best Buy and Gamestop are among the other companies to have launched like-minded efforts.
"Trade-in programs are becoming more popular as smartphone technology continually changes and new phones are released," said Andrea Woroch, money-saving expert for Kinoli. "People want the phone with the newest features and faster connectivity, and will be more inclined to upgrade upon receiving credit for a trade-in.
"These stores and brands that take trade-ins can in turn sell those phones as refurbished/previously owned to people who can't afford a brand-new iPhone but want the technology of a recent model," Woroch told the E-Commerce Times. "Consumers will go to the retailer/brand offering the most credit for a trade-in, and since Walmart requires those customers to enter a two-year contract upon the trade-in, they are securing a large customer base, which results in more revenue."
'Not a Great Deal'
Those conditions — namely, the contract and having to choose from what Walmart has to offer — could make consumers decide to shop around before trading-in.
"These conditions make disposing of a device this way not a great deal for users," said Chris Silva, principal analyst atHigh Rock Strategy. "Those who are tech-savvy do much better with eBay or Craigslist as the disposition channel for their devices."
There is robust demand for older handsets.
"There's an active local market for recent but not latest-generation devices," Silva told the E-Commerce Times. "There's also a very hot market for devices going overseas, which is where services like Gazelle — for those users not interested in navigating eBay or Craigslist — dispose of the devices they buy."
In the case of Walmart, it has a plan in place that will ensure that those devices that don't have value in a secondary market don't contribute to e-waste.
"We have a partnership with CExchange, and they will be handling the recycling of all of the handsets that are traded in," Walmart spokesperson Sarah McKinney told the E-Commerce Times. "Through this partnership, 100 percent of handsets will be recycled, with no parts going to landfill."