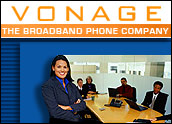 Shares of Vonage soared briefly after the beleaguered VoIP (Voice over Internet Protocol) calling firm won a major court victory that will enable it to continue signing up new customers while its appeal of a patent infringement verdict wends its way through the legal system.
U.S. Court of Appeals for the Federal Circuit in Washington granted Vonage's request for a permanent stay of a lower court injunction issued on behalf of Verizon Communications on April 6, Vonage stated.
That injunction barred Vonage from signing up new customers, a penalty a Vonage lawyer said amounted to sentencing the company — which has yet to turn its first profit — to a slow death by strangulation.
Company Remains Optimistic
The permanent stay enables Vonage to add new customers as it pursues its appeal of the original verdict, in which it was found to have unintentionally used technology patented by Verizon that covered voice mail retrieval and transfers of VoIP calls to traditional calling networks.
"We continue to believe we have not infringed on any of Verizon's technology and remain optimistic that we will ultimately prevail in this litigation," said Jeffrey Citron, a Vonage founder who is serving as interim CEO after the departure earlier this month of the company's top executive.
"It's business as usual for us," he added.
However, it was anything but business as usual for investors, who drove up Vonage stock by nearly 30 percent in afternoon trading Tuesday, boosting the price over the US$4 mark for part of the session. Selling resumed late in the day Tuesday and continued in morning trading Wednesday, however, with the stock down 8 percent to $3.40.
Attention Turns to Appeal
The judges issuing the stay did not comment on the reasons, but attorneys said it is likely that Vonage was able to demonstrate that it would have been irreparably harmed if the injunction remained in place — even if it eventually prevailed in its attempts to overturn the verdict.
Vonage told the appeals court that it may need to seek bankruptcy protection if the injunction were enforced. Given the company's past churn rate among customers, it would have lost nearly its entire customer base in a relatively short time span.
Meanwhile, Verizon could also claim a victory of sorts in the form of a promise for a speedy hearing of Vonage's appeal. The court scheduled a June 25 hearing for oral arguments to be heard, potentially compressing what could have been a years-long process into several months.
Holmdel, N.J.-based Vonage has repeatedly said it believes it will prevail on appeal and cited errors made by the judge overseeing the trial.
"We believe the original verdict was based on an erroneous claim construction — meaning the patents in this case were defined in an overly broad and legally unprecedented way," said Sharon O'Leary, Vonage's executive vice president and chief legal officer. "We believe the district court's decisions repeatedly neglected well-established law on claim construction and, as a result, artificially expanded the coverage of Verizon's patents well beyond what was intended by the patent trademark process."
Fast Resolution
Though it has built a strong brand identity — thanks in large part to a costly marketing program that is being scaled back as part of a cost-cutting plan announced last week — and is the leading VoIP-only provider in the U.S. with 2.4 million customers, Vonage has been forced to push back its timetable for reaching profitability due to continued customer churn rates.
Even without the injunction, the Verizon verdict brings a financial burden. In addition to a $58 million payment already set aside, Vonage must pay 5.5 percent of all new subscription revenue into an escrow fund — money that will eventually go to Verizon if the verdict is upheld.
The stay might give Vonage time to develop a workaround solution, but the expedited appeal hearings may mean the company has a relatively small window to come up with such an alternative. The company has hedged on whether such a plan is afoot, but it is very likely options are being explored for replacing the Verizon technology in question.
A Bumpy Road Ahead
The fact that the injunction could kick in again in a matter of months if Vonage doesn't win an appeal case might make it harder for the company to sign up new customers, Jupiter Research analyst Joseph Laszlo told the E-Commerce Times.
Though most competitors are far smaller, many may start "targeting worried Vonage customers with special offers," he stated.
"If you're a Vonage customer, at some point the prospect of months of legal uncertainty, combined with special offers from the competition, has got to wear down whatever loyalty you've got left," Laszlo said. "Vonage's churn was high before the patent case, it's only going up."
In the long run, he added, the impact on the overall VoIP market may be small, with cable companies rapidly emerging as the main provider of Web-based calling, increasingly sold as part of a bundle of services to cable and high-speed Internet customers.
Meanwhile, Vonage is launching what it called a grassroots campaign to promote consumer choice in the telecommunications landscape, the company stated Wednesday. It is claiming that Verizon and other large phone companies were attempting to use litigation to limit choice to the major telcos.