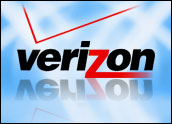 Telecommunications giant Verizon posted higher revenue but lower net income for its first quarter Monday, as continued investment in its TV-ready fiber optics network weighed on profits.
Still, the results showed Verizon continuing to win customers for its next-generation FiOS service and benefiting from the strong performance of Verizon Wireless, which it continues to own in partnership with Vodafone.
New York-based Verizon said earnings were US$1.5 billion, or 51 cents per share, compared to 56 cents in the same time frame in 2006. Verizon said part of the 8.4 percent decrease in profits was due to asset divestment over the course of the past year.
Revenue was up 6.4 percent year-over-year to $22.6 billion.
Chairman and CEO Ivan Seidenberg credited "across-the-board … organic growth in key markets: retail wireless, broadband, data, video and global IP" for what he called "a strong start in 2007."
The capital outlays being made now will pay off in the future, he predicted, noting that "our investment in advanced network platforms has been a foundation for product innovations and operating efficiencies."
Verizon shares were higher on the results, rising just under 1 percent in morning trading Monday to $38.19.
Still the One
Despite recent consolidation in the industry, Verizon Wireless remains the largest mobile carrier based on revenue, showing an increase of 17 percent to $10.3 billion in the quarter, Verizon said. Data and services revenue — from sources such as mobile e-mail — was up 80 percent.
Verizon Wireless added 1.7 million net new customers — most of them on monthly subscriptions — and ended the quarter with 60.7 million subscribers. The carrier's so-called churn rate also remained one of the lowest in the industry, at just over 1 percent.
The other major growth area at Verizon remains its still nascent FiOS network. Verizon said it added 141,000 new customers for its FiOS TV service — or about 2,200 per day in the quarter, compared to around 1,500 per day in the fourth quarter of 2006. The service now has 348,000 subscribers. Verizon said it now delivers video to close to 1 million customers — most of them through a partnership with DirecTV.
Growth was more modest in the Verizon business unit, which saw revenue grow 2.3 percent to $5.2 billion — numbers that include results of the MCI acquisition, which was aimed at boosting Verizon's business footprint.
Meanwhile, Verizon said it bought back some $425 million worth of its own stock, part of a broad trend in the tech and telecom industries aimed at returning cash to shareholders, supporting stock prices, and helping to boost long-term results. The company has said it would spend up to $2 billion this year on its own shares.
Speeding to Market
The expense associated with rolling out its TV-ready fiber network shaved some 11 cents per share off earnings, Verizon said. Total capital investment was $4.2 billion in the quarter.
Verizon needs to invest heavily in order to grow the footprint of its FiOS service so it can remain competitive with cable companies, telecom analyst Jeff Kagan told the E-Commerce Times.
For cable companies, it was relatively easy to add voice-calling services such as VoIP (voice over Internet protocol). By contrast, Verizon has been frustrated by the need to obtain local licenses in many jurisdictions in order to deliver its broadband TV service.
"Verizon is beginning to compete with the cable television industry for the complete bundle of services for consumers," Kagan said. "The cable television companies are winning an increasing amount of that business, as expected. That's why Verizon needs to rush their competitive bundle to market in order to compete."
Top line growth is now unexpected, as AT&T, Verizon and some cable providers — notably Comcast — roll up customers eager to purchase bundles of services from a single provider. Both AT&T and Comcast posted strong earnings and revenue growth in recent weeks.
"Verizon's numbers further highlight the accelerating growth being led by video and data services," S.G. Cowen analyst Tom Watts told the E-Commerce Times.
The strength of that new-services growth is underscored, he added, by the fact that companies continue to see little growth — or even losses — in their traditional core area of fixed wire-line phone services.