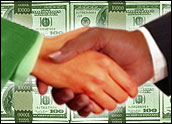 Internet security firm VeriSign today announced it has acquired Reston, Va.-based security intelligence firm iDefense for approximately US$40 million in cash.
iDefense provides special intelligence information about network-based security threats and vulnerabilities to financial services firms, government agencies, retailers and other large enterprises. The company employs a multi-lingual network of more than 200 research contributors in over 30 countries in efforts to provide insight into the cyber underground and software vulnerabilities.
"Network perimeters are expanding to include customers, partners and remote employees, so enterprises must leverage the most advanced security intelligence to protect customer data and corporate assets," said Judy Lin, executive vice president and general manager, VeriSign Security Services.
Real Time Acquisition
Lin said the acquisition of iDefense expands VeriSign's suite of managed securityservices, providing customers with additional capabilities with which to proactively protect their networks from vulnerabilities and attacks.
Specifically, the addition of iDefense will augment VeriSign's Managed Security Services (MSS) offering and expands the company's ability to monitor and assess security threats for its 1,000 MSS customers in real time.
iDefense CEO John Watters, who will continue to lead the VeriSign iDefense research team, said he expects the merger to allow the companies to provide more comprehensive, actionable intelligence to customers before attacks strike.
Signs of the Times
Jonathan Spira, chief analyst at Internet security firm Basex, told the E-Commerce Times that we can expect more companies to follow VeriSign's lead in adding network security services into their overall portfolio.
Indeed, today's merger is a sign of the security times. VeriSign's competitors, including Symantec and Cybertrust, have been active with mergers and acquisitions over the past 12-18 months as the industry continues to consolidate. Symantec and Veritas Software completed their merger in early July. Betrusted and TruSecure completed a merger in November 2004 to form Cybertrust.
"As companies both large and small fully embrace the Information Age, the traditional network boundaries are being expanded to go beyond the firewall and allow customers, partners, suppliers, teleworkers and road warriors full access," he said. "Companies need to allow these groups in while protecting their networks from the additional vulnerabilities and threats that might result."
Analysts said security is big business today, as evidenced by frequent headlines on about data theft and loss.
"People used to rob banks because, as Willie Sutton apocryphally said, that's where the money is," Spira said. "Today, as perhaps a better a signpost of the Information Age than anything else, people steal bits and bytes."
Merger Details
VeriSign will retain iDefense's 45 employees, and iDefense will assume the VeriSign name even as it continues to market the its suite of intelligence services.
The acquisition is being accounted for as a purchase transaction and has been approved by the boards of directors of both companies. Revenue and earnings contribution from the acquisition will not be material to the company's 2005 financial results.