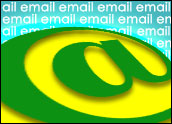 E-mail marketing works. Seventy-nine percent of consumers have signed up to receive e-mail at least from one company, according to Forrester Research, and two out of three people surveyed said they read e-mail every day of the week. E-mail marketing delivers a US$51.45 return on investment (ROI) for every marketing dollar spent, according to the Direct Marketing Association.
Further, a survey of 55,000 consumers by Decision Direct Research revealed that the number of respondents that visited a Web site when they received an e-mail promotion increased to 62 percent in 2007.
No wonder e-mail marketing is becoming an increasingly popular alternative or component to traditional marketing campaigns among businesses of all sizes. Marketers everywhere are shifting and recalculating their budgets to capitalize on the revenue potential of e-mail marketing this holiday season.
Immediate, Measurable Results
By using an advanced e-mail marketing system, measuring the results from your e-mail marketing campaign is fast and easy. Intuitive online reports reveal not only know how many e-mails were successfully sent and delivered but also how many people opened their e-mail and clicked. Other forms of advertising such as direct mail and print simply can't compete in delivering this type of valuable marketing data.
Unlike print campaigns, which can take weeks and even months to run, or postal mail that takes days to deliver, an e-mail marketing campaign can generate immediate, same-day results. Marketers can schedule an e-mail blast for 8 a.m. and begin to see results the same day — Web site traffic can increase within an hour.
A Viral Component
Unlike virtually every other form of direct marketing such as direct mail, print ads, television ads, billboards and telemarketing, e-mail marketing offers marketers the potential to reach a significantly larger audience than originally intended. By leveraging the built-in features of recipients' e-mail software (i.e. Outlook), savvy marketers can transform a standard e-mail campaign into a powerful and inexpensive viral marketing initiative.
Encouraging recipients to share or forward the e-mail to a friend or colleague helps to not only spread the message but continually increase the size of the e-mail list for future mailings. Best of all, a recipient can forward an e-mail at zero cost to the advertiser.
The Perfect Marketing Testing Platform
If you're not sure whether a new promotion will work, one of the best ways to test your concept is via e-mail. With an e-mail marketing application, it's easy to split your list into several small lists and test multiple promotions simultaneously. You'll know which of your promotions significantly outperform all others and which e-mail designs get the most clicks or subject lines get the highest open rates. This type of data can be highly valuable for traditional marketing campaigns.
So why isn't every business using e-mail marketing to its fullest potential?
Having worked with thousands of businesses, I have found two primary reasons that prevent most business owners and executives from fully capitalizing on Internet technologies such as e-mail marketing:
They're busy running their business so they lack the time to learn new marketing strategies.
They lack the internal technical resources and expertise to get the job done.
The Best of Both Worlds
Sound familiar? Although there's no shortage of do-it-yourself e-mail marketing applications, most business owners don't lack vision or desire but simply the time and expertise. Running an effective e-mail marketing program requires building (or acquiring) a target e-mail list, designing compelling and visually stimulating e-mail content, managing the e-mail campaign and properly analyzing the results.
If you're like most busy business professionals, outsourcing the management of your e-mail marketing program may provide you the best of both worlds. Here are some tips for successfully outsourcing your e-mail marketing program:
Look for a company with a proven track record in the industry. As the industry continues to evolve, working with a market leader and pioneer can have its benefits.
Make sure they have the internal technical and creative expertise to not only set up your e-mail marketing system and blast out messages but also to work with your Web site. Building your e-mail list, tracking results and creating compelling campaigns typically requires modifications to be made to your Web site layout.
If possible, work with a local e-mail marketing consultant who can spend the time to get to know you, your business, your customers and your objectives.
Don't look for the cheapest vendor or you'll get what you pay for. At about $0.01 per e-mail sent, e-mail marketing costs only a small fraction of traditional postal mail. With this type of cost savings, and for less than the cost of a part-time employee, you should be able to hire a professional services firm to manager your e-mail marketing program.
---
Thomas Harpointner
is CEO of
AIS Media
, an e-business solutions company and developer of Excerpo Mail, a permission-based e-mail marketing application.
---