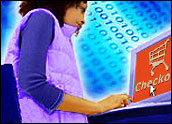 More consumers than ever are shopping online, but it doesn't mean they all buy online.
Studies show that the Internet influences more than US$3 of in-store sales for every dollar spent online. The Internet has given consumers the ability to make more educated purchases and get better deals, but many consumers still prefer to buy a product at a local store. Therefore, retailers need to develop an online marketing strategy that focus not only on selling customers online but also driving them to their retail store.
Forrester noted that almost $400 billion of in-store sales, or about 16 percent of purchases, are directly influenced by the Web — and that number is predicted to surpass $1 trillion by 2012. So does this mean that the Web has become more vital to consumers for shopping rather than buying? What effect does this change have on retailers?
Retailers Focus on the Next Generation of Online Shoppers
Today, a consumer's first impression of a retailer is based on their Web presence. If consumers aren't impressed with a retailer's Web site or can't find what they're looking for, most won't waste their gas money to drive to the retail store.
Keeping up with the high demands of today's consumer requires not only cutting-edge technology but also a forward-thinking strategy. Having helped thousands of businesses worldwide implement highly effective Internet strategies over the past decade has given us unique insight in terms of what consumers expect from their online experience and ultimately makes them buy.
Below is our list of top 5 "must-do's" every online retailer should embrace to meet the demands of today's more demanding consumer:
Must-Do #1: Update your storefront design. Online shoppers today are more sophisticated than ever. They simply won't buy from a company they don't trust. On the Internet, your Web site IS your business. It's the primary point of interaction between your company and your customers. Therefore, it's important to think of your online storefront not as a brochure but as an extension of your business. The quality of your online store will either directly drive sales revenues or drive customers to your competition. Therefore, if your storefront design looks dated, many potential customers simply won't have the confidence to buy from you. This is a perfect opportunity to update your storefront design and give it a fresh new look for the holiday shopping season. Consider hiring a professional development firm.
Must-Do #2: Implement an e-mail marketing strategy. E-mail marketing works. The Direct Marketing Association (DMA) reported that e-mail marketing can deliver up to a $51.45 return on investment for every dollar spent. That's partly due to the fact that e-mail recipients can share their e-mail promotions with friends at no cost whatsoever to the advertiser. With the rising cost of postal mail, an effective e-mail marketing strategy isn't only an option but a must-have for any serious online merchant trying to target to both online shoppers and online buyers.

One of the top challenge e-tailers face when it comes to e-mail marketing is list-building; their lists of e-mail addresses simply aren't large enough to make a measurable impact and they don't have a solid strategy in place for building their lists. The time to start building your e-mail list is now. If you have a retail store, give every one of your walk-in customers proper incentive to join your e-mail list. Encourage them to forward your e-mails to their friends and family. Use a professional e-mail solution to help you build a list and manage your e-mail campaigns.

Must-Do #3: Offer multiple payment options. Every online store needs to be able to securely process credit cards online. The inability to do so instantly damages a company's credibility and causes many customers to shop elsewhere. Offering customers the option to pay via a third-party payment processing systems such as PayPal can increase sales; it should not serve as your primary method for processing payments. Processing payments through your own credit card merchant account not only saves you money (5 percent or more per transaction), it also enhances your credibility since your company name appears on the customers' credit card statement.
Must-Do #4: Entice shoppers with promotions and incentives. Shoppers love deals. Coupons, discounts, sales and special bonuses can all serve as powerful incentives to get shoppers to take action and buy. Often, the right incentive, such as free shipping, is the difference between a sale and an abandoned shopping cart. However, not all online storefronts have a system in place that effectively issues and tracks coupon codes and discounts.
Must-Do #5: Promote privacy and security awareness. According to the U.S. Federal Trade Commission, identity theft remains its No. 1 source of consumer complaints. Don't spook your shoppers by requiring them to provide you any more personal information than absolutely necessary to complete the purchase. Be sure to make your Privacy Policy and trust language clearly visible and include a link on the checkout pages. Next to fields that require personal data, adding the phrase "We Value Your Privacy" has been proven to boost shopper confidence. Adding security related icons such as the VeriSign seal to a site and throughout the checkout process has also proven to increase shopper confidence and reduce shopping cart abandonment.
---
Thomas Harpointner is CEO of AIS Media, an e-commerce and marketing solutions provider.
---