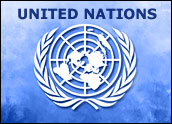 The United Nations has launched a push to curtail the vast majority of spam e-mail within two years.
The push by the International Telecommunications Union (ITU), the telecom arm of the UN, began this week with a meeting of scores of regulatory agencies from around the world in Geneva, Switzerland.
The group believes the technology, law enforcement authority and willpower exist to curb the flood of spam, and that there is little doubt that the problem represents a major stumbling block for the growth of the Internet, especially as spam finds its way from e-mail inboxes to instant messages and portable devices such as cell phones.
Spam is "a disease which has spread around the world," Robert Horton, the acting head of the Australian Communications Authority, who is overseeing the three-day confab. "We have an epidemic on our hands which we need to control. "It's time we did something formally about this."
Horton cited ITU studies showing that some 85 percent of the world's e-mail traffic is unwanted commercial messages, much of it promoting illegal products and at least 16 percent carrying pornographic images.
Tilting at Windmills?
What actions will be taken has yet to be determined and some analysts are skeptical that enough consensus can be reached to bring forward a plan that will actually work. The agenda for the three-day meeting includes a session on Friday focused on developing "frameworks for international action" on spam. The agency called the meeting in part to highlight some of the more successful legislation now in place in various countries.
The U.N. will likely highlight Can-Spam, which took effect early this year. A recent report from Commtouch found that nearly 10 percent of the spam e-mail it filtered in June met most of the requirements of the Act, such as clear identification of the sender and a subject line that accurately describes the message content.
International Approach
Many analysts have said an international approach is needed. Otherwise, spammers shut down by the Can-Spam Act in the United States, which is being aggressively enforced by the FBI and other agencies, would be replaced by those overseas.
The ITU says the U.S., China, South Korea, Brazil and Canada produce most of the world's unwanted e-mail messages, but that it is also found coming from dozens of smaller countries.
While spam has long been considered a nuisance, the problem is taking on an added urgency because e-mail is increasingly being used as a vehicle for identity theft and other types of illegal activity.
Graham Cluley, senior technology consultant at antivirus firm Sophos, told the E-Commerce Times that e-mail-based Phishing attacks and other types of social-engineering gimmicks that attempt to get computer users to turn over personal information are still ensnaring many consumers.
"Spam started off as an annoyance, but it has increasingly become a serious threat for both privacy and security reasons," Cluley said.
Cooperation Needed
Others are betting the international efforts will be the latest to fall short of eliminating spam, joining a host of other attempts, from aggressive law enforcement to civil lawsuits filed by AOL, MSN and others, to more recent efforts such as Microsoft's decision to back a bonded e-mail service that will require marketers to put up cash that can be forfeited if they e-mail unwanted messages.
"There are no shortage of technological solutions, no shortage of ways to fix it," Forrester analyst Jim Nail told the E-Commerce Times. "The problem is that for hard-core spammers, there is enough financial motivation to find ways to work around all of it."
"Unless you have everyone on the same page, nothing is going to stop the problem in that short of a time frame," Nail added.