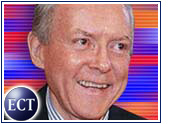 Urging consumers to take control of online privacy, members of the United States Senate Wednesday released a consumer handbook aimed at educating users on how to avoid privacy pitfalls through education and the use of high-tech devices.
Lawmakers were careful to say they do not endorse the products featured in the handbook, which include offerings from Microsoft, Disappearing, Inc. and American Express. Yet by releasing "Know the Rules, Use the Tools," legislators demonstrated just how pressing and thorny the Net privacy question has become.
Privacy is "a very hot issue and it's going to get hotter," said Senator Orrin Hatch of Utah as the handbook was released during a Privacy Technology Fair at the U.S. Capitol. "We've got to find a way to live with it — and that ain't easy."
U.S. Under Fire
Ironically, as lawmakers of the Senate Judiciary Committee unveiled the handbook, the latest study from the Electronic Privacy Information Center (EPIC) argued that governments pose the most significant privacy threats to consumers around the world.
While it looked at privacy laws and standards in 50 countries, EPIC's report was most critical of the U.S., citing the FBI's e-mail surveillance program, Carnivore, and a lack of movement on legislation aimed at protecting Web users.
"There is a strong need for improved oversight and stricter enforcement of current laws," EPIC said in the report.
High-Tech Solutions
In fact, in releasing the handbook for consumers, lawmakers noted that there is no consensus on even the most cautious steps toward protecting privacy. They argued that a lack of knowledge among consumers is one part of the problem.
Among the products that the handbook features are identity scrubbers, which are sold or given away by companies such as Privada, Incogno SafeZone, Zero-Knowledge Systems and Anonymizer.
The lawmakers also highlighted the products of Disappearing, Inc., which makes an e-mail program that automatically erases information shortly after it has been sent and read. Also mentioned were iPrivacy, Inc., which will work with the U.S. Postal Service on ways that shoppers can create alternative identities for online shopping, and American Express (NYSE: AXP) which touts its disposable credit card option.
The efforts of Microsoft (Nasdaq: MSFT) to build cookie-notification features into its browsers are also noted as a way that consumers can educate themselves about how online privacy works and how they can take control of their own online destiny.
Government Reluctance
While admitting that some privacy legislation may be inevitable, Hatch also sought to shift the burden to consumers. In the guide's preface, he urges consumers to become "empowered to protect the privacy of their personal information in accordance with their individual needs," and to seek "the level of privacy they desire from Internet businesses."
Hatch added, "This would enable the marketplace, rather than burdensome government regulation to address privacy concerns."