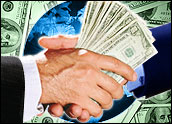 A consortium of private equity firms agreed Monday to purchase Dallas-based utility TXU for a record US$45 billion, in a deal that was sealed with the help of environmental groups. As part of the buyout plan, TXU will shelve plans to build eight coal-fired power plants and also invest in "green" energy technology.
Coal-burning electrical generating facilities are a major source of greenhouse gases, which many scientists believe is leading to global warming.
In the largest-ever acquisition by private equity firms, Kohlberg Kravis Roberts (KKR) and Texas Pacific Group (TPG) will take over TXU. As part of the purchase, those firms and other financial backers agreed to build only three of what was planned to be 11 new coal-fired plants.
Alternative Energy on Tap
The buyout move will help prevent the release of 56 million tons of carbon emissions each year, said the utility. In addition, it will invest $400 million into demand-management efforts and new initiatives to explore alternative energy sources and technologies.
The buyout is a "big step forward for the State of Texas and for the American energy economy as a whole," said Frances Beinecke, the president of the National Resources Defense Council (NDRC), an environmental group that endorsed the deal.
"This turnaround marks the beginning of a new, competitive focus on clean, efficient, renewable energy strategies to deliver the power we need while cutting global warming emissions," Beinecke said.
New Era?
The deal was announced just hours after former Vice President Al Gore's documentary on the global warming crisis, "An Inconvenient Truth," won an Academy Award.
Coal-fired plants are particularly harmful to the environment, according to environmentalists — in addition to producing increased carbon emissions, the process of obtaining coal through strip-mining and other techniques creates a slew of secondary environmental problems.
The deal represents an important turning point, David Hawkins, a former top EPA official who is now the head of the NRDC's Climate Center, told the E-Commerce Times. From a business point of view, the deal augurs proof that green does not necessarily mean lowered profits or less competition.
"These are very big investors coming with big ideas about where the competitive market is heading in the energy business," Hawkins said. "Strategies to fight global warming and save energy are crucial for anyone hoping to succeed in today's electricity industry.
"We're witnessing the beginning of the end of investments in old-fashioned coal plants," he added.
In part, the deal came about due to lawsuits filed by environmental groups wanting to block TXU's coal plant licensing efforts, the companies noted. With those lawsuits pending, and with lawmakers considering stricter caps on greenhouse emissions, TXU may not have been able to proceed with its business plan.
In conjunction with the takeover, TXU is promising price relief for some customers.
Green Like Money
The purchase of TXU came just as it was announcing fourth-quarter earnings, posting $475 million in net income, a 33 percent increase, on revenue of $2.04 billion, down from the year-ago period, when the utility brought in $2.46 billion.
Although TXU is a public company whose shareholders are looking for quarter-to-quarter improvements, the company is solidly behind the long-range environmental investments and the plan to curtail the building of coal plants, CEO John Wilder said in a conference call.
TXU's private owners "only want to invest in sustainable energy technologies, and they have the long-term investment orientation and patience to see those types of investments through to completion," Wilder said.
Heading into 2007, a major theme for many industries and businesses is "being green." Several technology companies have begun marketing their chips and servers as lower-power alternatives, for instance.
In addition, many of the venture firms that backed high-tech and Internet startups a decade ago are now focusing on alternative energy startups instead.