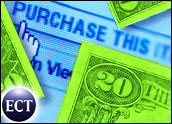 To win a tennis match, you have to out perform your competitor. You have to play a better game, have a better strategy and win more points. But, what does it take to do that? How do you improve your performance? And how do you measure that improvement? There are so many variables that impact a player's performance. At a minimum, you have to be quick on your feet, follow-through your shots, serve well, and place the ball strategically. When practicing, you have to focus on each of these areas individually and learn how to perform well at each one of them. Only then can you put all of these building blocks together for a winning athletic performance.
The same is true in the world of e-business. While the ultimate measure of online performance is whether or not your Web site helps your company to achieve its business goals, such as customer acquisition, conversion or brand-building, there are many other variables impacting this performance. A Web site has to perform well on many levels and in many areas before it can achieve business success. Companies need to recognize these areas and how they can understand and ensure that they are performing well on each of them. Start with the most basic building blocks and working our way up, these include:
Reliability – This is the most basic and critical building block of all. Obviously Web sites must be available and reliable to serve customers and drive business forward. While most companies already understand the importance of reliability and see reliability ratings close to 99 percent, there are still companies that have outages during peak business hours — causing them to drive away customers and lose business. If your competitors' sites, which are only a click away, are more reliable than yours, your consumers will turn to those sites — leaving you in the dust with a damaged brand reputation.
To ensure that your site is reliable and on par with the service your competitors are providing, implement an ongoing benchmarking program that tracks critical transactions on your site and the sites of your competitors. Measure the outage hours and availability of key pages within these transactions. Through this program, you can proactively identify any problem areas on your site and resolve them before they result in lost business.
Responsiveness – The speed with which consumers can complete transactions on your site has a direct impact on their perception of your company and the usefulness of your site. But, it is important to remember that consumers have different expectations for responsiveness depending on their experiences on other Web sites. If it takes 10 seconds to retrieve product information on most retail sites, then consumers will expect a similar response time on your site. To accurately identify what level of responsiveness is appropriate and necessary for your customers, you need insight into the averages for your industry and for the types of transactions and pages you have on your site. With this knowledge, you can understand consumer expectations and set service levels accordingly — ensuring that you don't waste time and effort reducing transaction times that are already satisfactory.
Compliance – Web sites today have many sets of standards to which they must adhere. There are regulatory standards set by federal, state and local governments, such as Section 508 for accessibility for people with disabilities. There are corporate standards set by your own company, such as those that regulate the look, use and placement of corporate logos and copyright information. There are quality standards to prevent mistakes such as broken links and misspellings. And finally, there are privacy and security standards to ensure that your Web site is complying with your privacy policies and that customer information is secure. All of these standards become particularly complex for large enterprise Web sites with many contributors. Implementing a systematic and ongoing testing program to verify compliance with all of these standards will allow you to ensure that your Web site is satisfactorily representing your company and adhering to standards.
Content and Functionality – Web sites must provide consumers with content and functionality that is informative, helpful and easy to use. There has to be a reason for them to visit and return to your site. The only way to truly understand whether or not a site is performing well in this area is to learn from real-world customers. You need to understand what they need and expect, whether they can find it on your site and if not, what you could have done better. Implementing a Customer Experience Management (CEM) program will provide you with the consumer's perspective of your site — helping you to build a site that exceeds their needs and keeps them returning. There are several CEM research methodologies you can use to gather this information:
Open Web Research allows you to see which Web sites and functionality on the Internet consumers use when they are looking for information on a particular subject or trying to complete a specific task.
True intent testing allows you to see why consumers come to your site and what they do when they are there.
Task-based testing allows you to see if consumers are able to complete key tasks on your site and if not, why.
Competitive intelligence research allows you to compare your site to your competitors' sites so that you can understand which sites consumers prefer and why, and which sites drive the desired consumer behavior and exactly what these sites are doing to achieve that goal.
Understanding consumers' behaviors and attitudes while using your site and the sites of your competitors will enable you to understand not only what consumers are doing online, but also why they are doing it. In this way you can determine exactly what content and functionality to provide in order to serve their needs.
Design and Organization – A site's design and organization has a direct impact on consumers' perceptions of the company's brand and image. Sites with appealing design and clean organization can leave a lasting positive impression on a consumer — impacting their behaviors both on and offline. As with content and functionality, the only way to determine if your site's design and layout is performing is to find out from real consumers. Conducting a basic site assessment by asking consumers to review and evaluate your homepage, navigation and architecture will give you all of the data you need to tweak and tune your site to provide an appealing experience. This type of research can also be done in a pre-development or pre-launch stage in order to avoid spending development time and marketing dollars on Web site changes or marketing campaigns that will not reap rewards.
These are just five of the many variables that drive a site's ability to achieve the ultimate level of performance and enable a company to meet its business goals. Often, companies underestimate the impact that each of these elements has on critical business goals — attracting and retaining customers and ultimately improving the bottom line. To build a site that truly performs, it's critical to measure and systematically improve each of these areas until all of the pieces fit together and your site is operating like a well-trained athlete.
---
Emily Morris
, is senior product manager at
Keynote Systems, Inc.
---