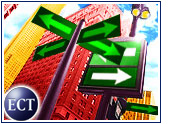 While sometimes warranted, changing databases is a huge undertaking for almost any enterprise. An IT department embarking on such an endeavorshould plan for a major upheaval, with sizeable up-front costs, a host of compatibility issues and the need to retrain key employees. Still, some companies seem to be doing it. A recent IDC report showed that sector leader Oracle is losing market share to rivals IBM and Microsoft.
Gartner analyst Betsy Burton said true database migrations, in which information on an existing system is moved to a new database, are rare. What is more common is a piecemeal approach, with corporations choosing to set up multiple databases from multiple vendors.
"I don't see a lot of people unplugging leading vendors like Oracle," Burton told the E-Commerce Times. "But I'd say 90 percent of the organizations out there now work with multiple databases anyway. A lot of clients that I work with think it's important to have alternatives to Oracle for negotiation purposes.
"It [says] to them, 'See, you're not the only game in town,'" she added.
Avoiding Vendor Lock-In
In the past, so-called vendor lock-in, in which a company becomes dependent on a single database because of a specific application it runs, was a major impediment to database changes.
But the situation has changed in recent years. While analysts say that making heterogeneous systems work together is still a major issue, the increasing sophistication of the application integration industry, along with a proliferation of open-source products that aim to be compatible with anything, has helped make this hurdle one that can be cleared.
So, although a database changeover is still expensive and time-consuming and often puts strain on IT departments, Burton said the cost can be justified if the move supplies additional productivity or other gains.
Proceed with Caution
In fact, database migrations can produce long-term payoffs. For instance, Burton said that IBM has offered incentives for its DB2 product to customers who migrated from Informix databases.
Other advantages may include additional security, Siebel Systems CIO Mark Sunday told the E-Commerce Times. He notedthat, regardless of potential advantages, the decision about whether to break free of an existing database is not to be approached lightly, particularly when the investment for large companies may be in the seven-figure range.
As a result, the value proposition "has to be pretty overwhelming" before most enterprises will consider setting aside a central piece of computer infrastructure, Sunday said. Instead, most database moves are taking place as part of larger strategic plans and in smaller steps.
"We're in an environment where slow, measured movements are favored over big, bold ones," he explained.
No Quick Fix
If an enterprise does choose to undertake a database switch, whether incremental or massive, it should be prepared for the long haul. Experts say a changeover can consume an IT department's entire focus for weeks or months, making some outside help a must, since more hands will mean a shorter time frame for implementation.
One good ingredient is a well thought-out but flexible calendar. Although crash-style changeovers can be accomplished in a couple of weeks, enterprises should allocate a few months to such a project if they wish to do it right, according to Roger Smith, CIO of IT provider NCS Technologies. He also advised leaving ample time for testing and building in extra time for surprises.
Overall, to ensure a smooth transition, IT staff should start by drafting or mapping a process for the switch and making sure all parties impacted are aware of the plan well in advance. This may be more complex than it sounds, since coordinating a changeover could require working around projects currently running on the database to be replaced.
Ready To Rewrite?
For example, a mid-size corporation moving from an Oracle database probably would have to rewrite dozens — at least — of proprietary SQL queries in order to ensure that all of its data migrated successfully.
"The proprietary stuff is what really keeps more people from changing," Gartner's Burton said, explaining that the manual labor involved can seal a decision not to switch databases. Even those services that claim to automate the process still often require line-by-line coding, she added.
The bottom line, Burton said, is that the process is expensive and time-consuming, but "if there are gains to be had in terms of productivity — obvious and immediate ones — then it might be worthwhile." By carefully planning technical work, companies should be able to drastically increase their odds of achieving a smooth transition and avoiding unexpected delays.