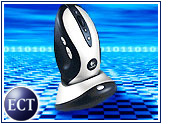 In a sea of drowning tech companies, Logitech's (Nasdaq: LOGI) is an unlikely story — one of profit, promise and seemingly unlimited potential. The Fremont, California-based peripherals maker is flush with cash, having homed in on a market where the sky is the limit at a price point that defies recessionary pressures.
How has the company been so successful in an incredibly tough economy?
Logitech specializes in wireless optical mice and keyboards, Webcams, PDA keyboards and game console attachments. It counts Microsoft, Creative Technology and Philips Electronics among its rivals. With sales of US$944 million in fiscal 2002 — 28 percent more than in fiscal 2001 — the company's balance sheet is firmly in the black.
The 22-year-old company's recent success can be attributed to consumerdemand for peripherals, driven not only by a fondness for entertainment and utility, but also by a desire to capitalize on home computer purchases made in the last several years.
"You probably don't need the next Pentium chip. Your software is running fine.But to make the experience — the interface part of it — easier to use or more convenient and to get rid of a clunky cord, people will spend $50," Logitech chief financial officer Kristen Onken told the E-Commerce Times.
Peripherals of Promise
Indeed, a Forrester Research survey of more than 9,000 consumers this year found that while PC purchases are at an all-time low, computer use has reached its highest levels to date, with peripheral purchasing directly benefiting. For example, Webcam sales rose 36 percent this year, and sales of digital still cameras jumped 64 percent.
"We're seeing the evolution of the PC to be a more flexible machine,"Forrester analyst Jed Kolko told the E-Commerce Times.
Even more promising for Logitech is that products like Webcams and digital cameras remain far less common than standard peripherals like printers and scanners. The company's numbers show that both Webcams and wireless peripherals have reached about 5 percent of the PC market. Logitech sees those figures as a sign that "there's a lot of room for growth," Onken said.
Attractive Price Point
Another factor that has made the peripheral space attractive to consumers is a price point that Logitech CEO Guerrino De Luca has described as "below the check-with-the-spouse threshold," according to Onken.
"When you have a recession, large-ticket items tend to fall on the backburner. It's not that [consumers] don't purchase, but they still want the pleasure of buying something new," Giga Information Group research fellow Rob Enderle said. "They just can't afford something expensive."
And Onken noted that because Logitech's products have a relatively long shelf life compared with PCs, the company can keep manufacturing costs low. The company produced more than 95 million units last year, so lower costs can add up to significant savings and higher profit margins. In addition, because the retail price for its products tends to remain steady, margins increase even more.
"A year and a half ago, we introduced the first cordless optical mouse, andat that time it sold for $69," Onken noted. "Eighteen months later, we [are] still selling it for $69."
Products Step Ahead
While at first glance it might seem that a keyboard-and-mouse company founded in 1981 would have struggled when PC makers began to ship those components as a standard part of new computer bundles, Logitech said keyboards and mice remain its primary growth drivers.
"In the last 12 years, our mouse business has been growing double digits yearafter year in the retail space," Logitech senior vice president of worldwidesales and marketing Marcel Stolk told the E-Commerce Times.
Stolk explained that 85 percent of Logitech's sales are generated by retail outlets,while just 15 percent stem from OEM partnerships. But he said that until the late 1980s,the OEM business outpaced retail. At the time, "we thought our retail businesswould be dead in a couple of years because every PC [would] have a mouse."
Standard vs. Frills
Instead, Stolk said, OEMs found that PC prices were critical for consumers, sothey continued shipping PCs with standard mice and keyboards. Logitech's response has been to keep its retail products a step ahead of those offered by its OEM partners, leaving room for consumer upgrades of components like optical wireless mice and keyboards.
In addition, the quality of the company's products also has helped propel it to the top of its class. "They are pretty close to best of breed," IDC director of client computing Roger Kay told the E-Commerce Times. Specifically, he cited well-designed ergonomic products as well as failure rates that are notably low.
Profitable Acquisitions
Logitech's expertise in at least two areas has not been developed in a vacuum.Two key acquisitions — a $25 million purchase in 1998 of camera maker Connectix and a buyout 18 months ago of Labtec — have propelled the company to dominance.
Onken noted that the company continues to look for other acquisition targets in hopes of buying its way into another major market. "Every week we review companies to see if could we buy something that will be our next growth driver, like how we bought the camera business. Could we duplicate that?"
In the near future, however, such purchases look unlikely. "We're our own worstenemy," Onken said, "because nothing meets the standards we set forourselves."