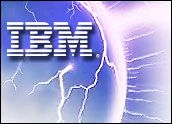 Today, few people are using an IBM desktop computer — and if they are, the machine could be close to 20 years old. However, back in 1995 when IBM bought Lotus Notes, it was the world's largest software company and still made personal computers. Fast-forward, and today IBM isn't really known either for software or desktop computers.
Yet a little over a year ago, IBM's Watson supercomputer competed on the trivia TV show "Jeopardy," proving that Big Blue's best days might not be behind it. Far from it: IBM continues to produce supercomputers and has worked to develop green power and other technology. From 1993 to 2007, the company was awarded more than 38,000 U.S. patents and had invested about US$5 billion in research.
In other words, IBM has been a company that has successfully evolved, reinvented itself and managed to stay relevant in a changing business ecosystem. The company even changed its name. Originally founded in 1911 as the Computer Tabulating Recording Company, it made machinery that included commercial scales and tabulators. It adopted the slogan "Think" in 1915, and became International Business Machines in 1924.
Now more than 100 years old, IBM has stood the test of time. Its success begs the question: Was this a matter of dumb luck, or does IBM's history hold clues that today's tech giants can heed to remain strong in 100 years?
"It was absolutely more than dumb luck," said Victoria R.M. Brown, CEO and cofounder of Big Think. "A very notable innovation expert, Jeff DeGraff, has said that companies must be innovative to survive and thrive and that for corporations to do this, there are four steps they must take."
These include setting high quality targets, enlisting deep and diverse domain experience, taking multiple shots on goal and experimenting and learning from past experience, Brown told TechNewsWorld.
"IBM has clearly done all of these things and has demonstrated an ability to pivot into markets that are more robust than the one they were currently in, and also create markets," she added.
The Old Rivals: Apple and Microsoft
IBM faced many rivals over the years, including Olympia, Brother and Packard Bell. Those companies still exist, even if they have been acquired by larger players at some point. One of IBM's chief rivals for years, Smith Corona, actually was founded a quarter-century earlier. It never branched out as successfully, and was acquired by a private company during its second bankruptcy in 2000. Today it makes thermal labels, hardly as notable as a supercomputer.
Thus it must be asked if some of IBM's more recent rivals, such as Microsoft — a former partner — or Apple — once a head-to-head rival for the desktop — could endure for 100 years. On the surface, it seems that those two certainly aren't going anywhere.
Both have deep financial resources and have faced similar ups and downs — including times where it looked like one might go under while the other faced the threat of an antitrust breakup. Despite those facts, Microsoft and Apple — the latter even built on IBM's slogan with "Think Different" — appear to having true staying power today.
This doesn't mean it will be easy, though.
"If they do the above four things, and hire innovators — people that will actually shake the company up periodically, and, there is a culture in the company that not only allows for this, but requires it of innovators. And, there is the clear ability of the company to implement the good — and sometimes bad — ideas of these innovators," Brown said.
Innovate or Die
Innovation, thus, is the key, and those at Apple, Microsoft, Google and others would be wise to remember that IBM did in fact innovate.
"IBM made many transitions from business machines to PCs to services," said futurist Glen Hiemstra. "Microsoft would be the most likely candidate, but their product becomes more ephemeral every day."
"Next would be Google," Hiemstra told TechNewsWorld. "Mostly because of their power in mobile, their simplicity, and their imagination. They may morph into something else because of the eclectic interests of the founders — maybe they will be a smart car and AI robot company on the other side of the singularity."
Apple could be the one to face challenges without its iconic founder to lead the way.
"Apple is the most diverse — hardware, software, said Hiemstra. "But as the Steve Jobs legacy fades, it will be harder and harder. Their vision is way too limited."
This circles back to innovation — or in the case of Apple, reinvention. In 1995, Apple was fading, and the company could very easy have gone the way of Packard Bell, which NEC took over in the 1990s only to sell to Acer in recent years. It isn't hard to imagine that Apple could have faced a similar fate had Jobs not returned.
Return he did, however, and now Apple is back, and at present it's one of the most profitable companies in the world, so who knows what tomorrow holds.
"10 years from now, Apple's purpose might not be what it is today," said Brown. "It needs to be able to quickly realize that is the case and change."
Going the Distance
There are, of course, other tech companies — and even companies that are only on the cusp of technology that could be the future giants.
One example that seldom comes to mind is Nintendo, which launched its first video game system in 1985, after the first big video game crash. At that time, few companies were interested at all in bringing a game system to the home. This is also noteworthy because the company was then already 94 years old! It originally produced handmade playing cards in Japan when it was founded in 1889, but in the 1970s moved into video games. That's serious reinvention.
So could other companies make a similar move to go the distance?
"If I were a betting woman, I'd place my biggest longevity bet on The Walt Disney Company," said Marian Calabro, president of CorporateHistory.net. "Disney has the whole package: physical assets, virtual savvy, and a global marketing operation equal to anyone's."
The company also just acquired the rights to the "Star Wars" franchise, with plans to release at least three more films. With a movie studio, theme parks and ownership of the ABC network, the house that the mouse built seems on a strong foundation.
Long and the Short
Even at 100 years, IBM could also be considered a bit of a youngster when compared to some truly old companies. The Dutch East India Company was founded in 1602 and lasted until 1798, so it had a run almost twice as long as IBM has going at present.
Many hotels, breweries and restaurants also can lay claim to longevity, but the oldest company still in business can lay claim to about 1,450 years in business (about the length of the combined existence of the Roman and Byzantine Empires).
"Long-lasting organizations deal in the basics: construction, religion, lodging, wine and beer," Calabro told TechNewsWorld, "But Japan's Kongo Gumi, founded in 578 and now part of Takamasu, is believed to be the very oldest. They build Buddhist temples."
The "also-rans" have had long runs as well.
"Two of my favorites are the Marinelli Pontifical Foundry, which has been making bells since the year 1000 or so — they made the bell on the leaning tower of Pisa," Calabro noted. "And the Avedis Zildjian Company, famed for Zildjian cymbals since 1623. Percussion items will outlast us all."
Back in the tech domain, don't rule out Big Blue to keep going.
"The most likely successor to IBM will be IBM," said Hiemstra. "The future is much wrapped up in high-performance analytics of big data. IBM is better positioned than the others to perform in that world. Heck, they are defining it. That is the future."