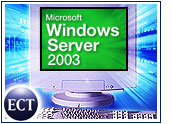 As Microsoft ramps up its Windows Server 2003 launch, enterprises large and small are trying to decide whether to upgrade to the new platform. Analysts interviewed for part 1 of this article agreed that, on the whole, Microsoft's latest server OS is solid, stable and offers useful new features.
However, as Gartner analyst Tom Bittman noted, enterprises' rationale for adopting the new OS likely will have little to do with its functionality.
"It's a very stable release with a lot of useful enhancements," Bittman told the E-Commerce Times. "That doesn't mean there's a business case to go out there and muck around with [your company's] operating system.
"This is not something that drives a lot of business value, whether Microsoft wants it to or not," he added.
Applications Drive Upgrades
Bittman explained that applications, not operating systems, generally drive businesses to upgrade or migrate to a new platform. For example, if an enterprise wants to deploy Exchange 2003, it must move to Windows Server 2003.
Yankee Group analyst Laura DiDio came to a similar conclusion. She told the E-Commerce Times that improvements to Active Directory, in particular, will push organizations to take the plunge.
"People who need to implement Active Directory in a meaningful way benefit significantly from the advances that come with [Windows Server 2003]," she said.
She also noted that the new platform's flexible configuration makes better use of underlying hardware than previous Windows versions did.
Hardware Synergy
In addition, Bittman said that although Microsoft's new release can provide good ROI (return on investment), most businesses — especially those currently using Windows Server 2000 — cannot justify the upgrade without tying it to a routine hardware refresh. Enterprises typically replace their hardware every three to four years.
"Say you got 1,000 servers and [you] want to go and test [your] environment and upgrade each of those. We're talking tens or hundreds of thousands of dollars just to go through that process," Bittman said.
However, he noted, "if you combine it with your normal hardware refresh, then you can usually build a good business case that [predicts a good] ROI in a short amount of time."
When To Buy?
Patience might be a virtue in other ways, too. Forrester analyst Rob Enderle told the E-Commerce Times that even though the core of Windows Server 2003 has been better tested than previous Microsoft operating systems, companies would do well to wait until the first service pack is released. By doing so, IT decision makers will appear to be prudent buyers.
"We expect [the first service pack] in around six months from launch," he said. Therefore, depending on world events, the purchase wave for Windows Server 2003 should ramp nicely starting late in the third quarter of 2003. He added that the first quarter of 2004 likely will be the strongest for deployment.
Initial deployments "will likely be branch offices and point solutions," according to Enderle. "Early headquarters deployments will likely just be in accounts that are part of Microsoft's early adopter program, where much of the cost is carried by Microsoft."
But Gartner analyst Bittman said it would make more sense for enterprises to start upgrading in the data center and then expand to branch offices.
"[You'd] want to put it closer to your good skills at the beginning," he said.
Reasons To Consider
Is an early upgrade ever justified? Enderle noted that companies should consider moving to the new server OS if it fixes critical problems they currently have.
"Security, Exchange, reliability and current hardware support will probably be the strongest drivers," he said, although "server consolidation may actually be the biggest driver because this product scales so much more strongly than [Windows] 2000 did."
"This year, the overall business case will be strongest for server consolidation," he added. "Exchange and Active Directory requirements will probably fill out the more compelling business justification reports."
Avoiding NT Fire Drills
Bittman noted that enterprises running Windows NT still comprise 60 to 70 percent of the Windows Server installed base. He said he believes that one-fourth to one-third of those businesses will migrate to the new OS by the end of 2004.
"For the NT base, Windows Server 2003 is a really big improvement," he noted. "It's four times less likely to have failure than NT. Also, new hardware won't run NT."
Bittman said Gartner's advice to companies relying on NT is to start planning to migrate if they have not already done so.
"Start planning now, and be off by [the] end of next year," he specified. "Otherwise, you risk running into a fire drill, and a fire drill is always more expensive than a planned-out migration."