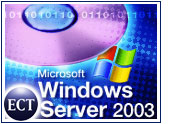 After much waiting and ample fanfare, Microsoft finally is launching its Windows Server 2003 platform. Although the company declined to comment, its Web site bills the new operating system as "a highly productive infrastructure that helps make your network a strategic asset for your organization."
To put it less verbosely, Yankee Group senior analyst Laura DiDio told the E-Commerce Times that the new platform is Microsoft's best-ever OS.
Forrester analyst Rob Enderle agreed, calling Windows 2003 Server a sharply improved offering that many likely will see as the company's first truly scalable server product.
"If it weren't for the economy, this thing would likely set sales records," he told the E-Commerce Times. "As it is, it likely will still do very well."
A Conundrum of Sorts
But not everything is rosy, DiDio said. "Windows 2000 was the best to date until now. [Windows Server 2003] has put [Microsoft] in the unenviable position of being [its own] best and worst competitor. It's a conundrum of sorts: As software gets better, there is less real impetus to migrate platforms," — particularly in a tough economy.
Nevertheless, she said, in a recent Yankee Group survey of 1,000 IT administrators worldwide, nearly 20 percent of respondents said they plan to upgrade to the new server OS within the first 12 months following its ship date.
Both Tortoise and Hare
Paradoxically, DiDio predicted that the two types of companies most likely to migrate early are leading-edge firms and those she termed "laggards" — organizations that, in some cases, are still using Windows NT 3.51.
DiDio did not differentiate between large, mid-size and startup entities when coming to her conclusions. She said that regardless of size, organizations must employ the best possible product to gain or maintain competitive advantage in the marketplace.
"The idea that you need the 'five nines' (99.999 percent) reliability for large businesses only has pretty much gone out the window," she noted, adding that if a startup suffers a server breakdown or glitch, it risks instantaneous oblivion.
Good for Everyone?
Overall, Forrester's Enderle said, organizations likely will have good experiences adopting Windows Server 2003 across the board, particularly if their users are properly trained.
"Installation will go more easily, and most of the security problems that haunted earlier versions are addressed in this one," he said. And "usersdon't even need as much training as they once did, [although] they still need to learn the platform."
But Tom Bittman, lead Windows Server analyst at Gartner, told the E-Commerce Times that for some entities whose server requirements are quite simple, the improvements Microsoft has included in the new release might be overkill.
"Windows is actually moving upstream itself in terms of its functionality, and there are people who are saying: 'Look, I don't want all that stuff! All I want is a Web server,'" Bittman said.
"That's where we see a lot of Apache Web servers being deployed instead of something like Windows," he added. "If I want a thousand of something, and I want them all identical and I want to have ease of licensing, Apache and Linux is a very good" alternative to Windows.
Benefits of Switching
According to Enderle, the clear benefits of Windows Server 2003 are its improvements in reliability and security. He described the platform as much more solid than Windows Server 2000 and noted that it provides a foundation for .NET products and other must-have applications that require an upgraded architecture.
"It is a requirement for Exchange 2003, which is nearly a must-have product for Exchange users," he explained. "So [it's] more scalable, more secure, easier to install, easier to service and a required foundation product for other current Microsoft offerings."
However, Bittman said, the main question is not necessarily whether Windows Server 2003 has great functions and stability. The real issue is whether or not it is worth the effort for businesses to migrate or upgrade to the new release.
He went on to suggest that rationales having nothing to do with functionality will determine whether adoption of the new OS makes sense, at least in the short term.
Go on to Part 2.