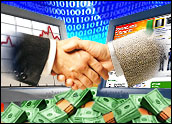 The business-to-business market was the darling of e-commerce pundits way back in the early '90s when companies began to get serious about using the Web to do business. B2B e-commerce was expected to lead the way into a brave new online world of business communications, management and international trade.
However, it turns out that the business-to-consumer movement has blazed the e-commerce trail and garnered most of the attention.
That's not to say that the B2B sector has been a laggard in any way, shape or form, however. It's just that the initial hype surrounding its potential outstripped reality and greatly underestimated the difficulties businesses would face in dealing with each other online. There are many valid reasons for that outcome, including the more complicated and longer-term nature of B2B e-commerce.
For one thing, finding and working with a B2B partner to purchase, supply, distribute or sell products on behalf of a business is a much more arduous task than buying a birthday gift for a loved one.
"If you buy the wrong tool for the job, you'll be stuck with a lot of headaches and a big bill at the end of the day. For example, if firms have complex configuration requirements, they should focus on platforms that offer best-of-breed configuration tools or have a strong partner in that space," Tamara Mendelsohn, a principal researcher at Forrester, tells the E-Commerce Times.
While quality, credibility and trust are important in any form of commerce, they are paramount when it comes to B2B.
Andale, Ariba!
Despite the challenges and pitfalls, some B2B e-commerce networks are making their mark and realizing the aspirations many initially foresaw.
"Traditionally, interfacing between companies was done by large entities connecting to suppliers via EDI (electronic data interchange) — very expensive, peer-to-peer connections that were custom-configured for a handful of entities," Craig Federighi, chief technology officer atAriba, tells the E-Commerce Times.
In 1999, Ariba was one of the first technology providers to set up in the B2B market space, launching the Ariba Supplier Network (ASN) to "extend connectivity to larger groups," he recounts.
"The ASN was one of first software as service deployments. It was a multi-tenant, Web services hub — all buzz words that came into vogue later. We essentially created an e-commerce dial tone and deployed it as a service on the Internet," remarks Federighi.
"Most networks in 1999 and 2000 were industry-centric — retail, mining, chemicals, oil [and] gas, and defense. There were 20 or 30 marketplaces," adds Don Darby, Ariba's director, supplier solutions.
"At the beginning, the Ariba Supplier Network was primarily for indirect spend, but as others floundered, it grew to span all industries and expanded into helping buyers with direct spend as well. Today, the ASN has buyers buying every commodity," he tells the E-Commerce Times.
Now Ariba can claim that the ASN is one of the world's largest business transaction networks, with more than 140,000 registered suppliers in 115 countries engaging in transactions worth more than US$95 billion a year. The network is growing at a rate of about 20 percent a year, according to Federighi.
"Each month, participating buyers and suppliers use the Ariba network to conduct business with each other electronically, managing the complete procure-to-pay cycle — from sourcing to orders, invoices and payment. More than 25 million purchase orders and invoices were carried across the network in 2005, and today it is used to process one purchase order every two seconds," he notes.
Business-to-Everyone
B2B networks have also expanded in terms of platform functionality, Darby continues. "It isn't just about transactions anymore. Buying organizations are leveraging features like profile search capabilities to find e-enabled suppliers. Suppliers are accessing RFIs (requests for information) and RFPs (requests for proposals) to participate in categories that fit their product line, and interacting directly with peers to exchange best practices and other invaluable information."
Moreover, "the line between traditional B2B and B2C is blurring," maintains Carolyn Layne, vice president of marketing for Redwood City, Calif.-basedComergent, which specializes in providing enterprise B2B platforms and application systems across a range of vertical markets.
"B2B buyers, even when there are multiple buyers from the same company, expect a B2C-like experience that is personalized and unique," Layne tells the E-Commerce Times.
"B2C companies are looking to extend their sales models by offering broader solutions, which may require the involvement of multiple suppliers and reaching new markets. As a result, B2C ends up requiring complex guided selling, configuration and order management capabilities traditionally found in B2B e-commerce," she explains, "and B2B e-commerce initiatives are now including features more typical of B2C offerings, such as ratings, reviews and promotions."
Comergent refers to the convergence of B2C and B2B as "B2E," or business-to-everyone. "E-business solutions that can address both business requirements are the ones that are winning in the market," Layne asserts.
B2B Convergence
Forrester's Mendelsohn agrees, noting that B2B and B2C are converging as more firms look to gain efficiencies across one e-commerce platform.
"B2B e-commerce is taking a cue from the B2C world in that marketing is more involved, and the focus is shifting from just supporting transactions to creating a better online experience that can be used to drive increased sales and loyalty," she observes.
"However, there are still distinct requirements of B2B platforms like support for RFQs (requests for quotations), multiple partner catalogs and pricing, and support for contract agreements. The B2B sales models can also be more complex, requiring platforms with greater flexibility," Mendelsohn adds.
"The renaissance in e-commerce investment that began in 2005 continues as companies across industries, such as Ann Taylor, NEC, OfficeMax and Wynn Resorts, move off of outdated technology platforms or launch online channels for the first time," states Mendelsohn, who authored a recent Forrester report on commerce platforms.
"In fact," she points out, "34 percent of North American enterprises and 42 percent of European enterprises that sell products or services online told us that they will be buying or upgrading commerce platform technology this year, underscoring that we are still in the midst of a re-platforming cycle," Mendelsohn writes.
"Much of this investment is driven by e-commerce executives with expanded budgets, the result of strong online channel performance, and — in the case of manufacturing organizations like Toro — the need to offer a channel to connect and sell directly to consumers."
As has been the case with other business and IT functions, an outsourcing model is developing within the B2B marketplace, according to Sanjay Anne, Ariba's senior solution marketing manager for on-demand and platform marketing.
"Supplier networks and catalog management are trending towards an outsourcing model, whereby supplier connection (supplier enablement) is becoming the domain of expert-based shared service functions rather than an internal, self-enablement model," he tells the E-Commerce Times. "This has several advantages over the self-enablement model, including economies of scale, direct application of domain expertise, lower costs and higher success rates."