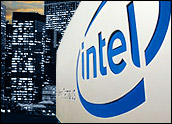 Just a day after IBM soothed investors with a solid quarter, fellow tech bellwether Intel raised fresh questions about the strength of the sector by missing its fourth quarter targets and issuing a softer-than-expected outlook.
The dominant chipmaker managed to post a 51 percent profit increase for the fourth quarter to US$2.3 billion, but still fell short of Wall Street estimates for closer to $2.5 billion in earnings. Signs that inventories are creeping higher may also be of concern and a signal that demand is softening among Intel's key customers, such as PC makers.
Intel posted record fourth-quarter revenue of $10.7 billion, a 10.5 percent year-over-year increase and 27 percent higher than the third quarter of 2007, but said that the quarter was still slightly below seasonal trends.
A 'Challenging Quarter'
Investors hit Intel shares hard, driving the stock down 12 percent in morning trading Wednesday to $19.93, a drop that wiped out more than $10 million in market capitalization.
The results were impacted by a "challenging quarter" for Intel's flash business lines, with NAND flash chips in particular being hit by a drop in prices brought on by competitive pressure, said CEO Paul Otellini.
Still, Intel's restructuring efforts — it ended 2007 with 8 percent fewer employees than the year before and 14 percent fewer than at the end of 2005 — and its new product rollouts positioned it to have a strong 2008, he added.
"We are very pleased with the significant progress we made on our strategic objectives during 2007," Otellini noted. "We enter the new year leaner and stronger and we remain optimistic about 2008."
Best in Show
That optimism was tempered with caution in Intel's outlook, however. Intel saw no signs of a U.S. recession in the fourth quarter but is being conservative when taking economic impacts into account, said Chief Financial Officer Stacy J. Smith.
"Based on what we see and economic indicators, we think it's right to be a little bit cautious as we go into the year," he commented.
Intel forecast first-quarter revenue of $9.4 billion to $10 billion. The mid-range of which is well below the $9.97 billion forecast by Wall Street analysts.
The company's fourth-quarter growth came from many of its markets, with European sales particularly strong, it said. For all of 2007, Intel set new sales records in server chips, mobile microprocessors, chipsets and wireless chips, Otellini noted.
'A Good House in a Bad Neighborhood'
Intel will dial back its research and development spending somewhat heading into 2008, with spending expected to be slightly below the $11.2 billion spent in 2007.
The chipmaker disappointed analysts and investors who were hoping for higher profit margins, something that seemed reachable because of the new product rollouts, delays in launching products at AMD and other factors, American Technology Research analyst Doug Freedman said in a research note.
Freedman suggested that even if the market deteriorates, Intel remains the best-positioned to weather the short-term downturn. "Intel remains a good house in a bad neighborhood, and we view the correction in shares as a good buying opportunity for long-term investors," he wrote.
The R Word
Intel will be facing its share of challenges if its customers start to buy fewer chips. It already is elbow-deep in a messy and high-profile series of antitrust issues: It's been sued by rival AMD and regulators in Europe and investigators in New York are looking into similar charges that it abused its market dominance.
Still, whether Intel — long considered a bellwether because its chips are a foundational component in everything from servers and PCs to consumer gadgets — provided any evidence of a recession is hard to read from the results, Enderle Group Principal Analyst Rob Enderle told the E-Commerce Times. Earlier in the week, IBM buoyed hopes for a quick recovery with a strong quarterly report and an upbeat outlook.
Whether major companies cut back on their IT investments "depends on whether or not there is a recession and, right now, companies seem to be thinking that there will be," he said. "It's the consumer segment that has folks worried, and desktops on the commercial side. IBM didn't benefit from these segments when those segments were good, and if they go south, IBM won't be hurt either."
Even more so than ever before, Intel is exposed to that consumer segment. "Currently upgrading to Vista, or the lack of a need to upgrade to Vista, is putting PCs lower on the purchase list than other products that may have a more direct impact on reducing costs or increasing revenues," Enderle added. "If consumers get worried … they don't buy high-ticket items like PCs or TVs, or appliances or cars, which can make the recession become deeper and last longer."
Upgrades Ahead
Better days may lie ahead, however, as the inevitable computer replacement cycle comes around again and as large enterprises finally get around to making Windows Vista upgrades, many of which have been put off until this year, said Gartner analyst Martin Reynolds.
Once those major upgrades begin, corporations will need to upgrade their hardware and if that happens in enough places, the business buying may help pick up slack left by consumers, at least for a time, Reynolds told the E-Commerce Times.
"Intel remains well-positioned in most of its market segments," he said, adding that the disappointing flash results are a reminder of how that niche has proven a difficult one for Intel to get right.