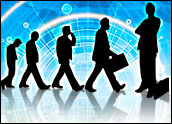 Considering the speed at which technology evolves, predicting even a year in advance can be a dicey proposition. Still, given key tech sector developments during 2007 and the outlook for 2008, some trends are unmistakable.
It's a safe bet that social networking and Web 2.0 overall will remain a closely watched sector and that mobile marketing and payments will see dramatic advances, that startups will take aim at Google's dominance of Internet search and advertising and that new models for digital music will evolve.
Amid it all, new tech business stars will emerge or re-emerge.
Taking Advantage of Change
As seeming overnight success stories such as Facebook and YouTube underscore, opportunities abound thanks to the disruptions that the new Web 2.0 and networked economies are creating, said Tom Hayes, an author whose book, Jump Point: How Network Culture is Revolutionizing Business, will be published in 2008.
"Key trends for businesses will include managing the attention wars, time-shifting, the whole emerging mashup culture and the coming trust economy," Hayes said.
The result is plenty of opportunities for technologies and businesses that can take advantage of change, he told the E-Commerce Times.
Against that backdrop, here's a sampling of some technology entrepreneurs to watch for 2008.
Second Helpings
When most people think of virtual worlds, sector leader Second Life is what comes to mind most often, but it's long had a shadow world of its own. There.com has its share of devotees; however, in late 2007, it began to sign a series of significant marketing deals.
In the second half of 2007, Michael Wilson, the CEO of Makena Technologies, There.com's parent company, announced marketing deals with Capitol Music Group and Coca-Cola — advertising star power that could set the Second Life alternative up for a strong 2008.
Corporations have recognized the value of being in virtual worlds, and may find There.com's so-called "PG-13" approach a more comfortable setting for their brands, Gartner Research Vice President Stephen Prentice told the E-Commerce Times.
"Alternatives such as There.com offer brand owners some tighter controls over intellectual property and user behavior, and a more-structured approach," he said, noting that There.com is as much about social networking and connecting users with music and other entertainment content as being a stand-alone virtual world. "Coke's move could certainly convince other youth-oriented brands to follow suit and seek out other virtual world choices beyond Second Life."
Wilson has been nursing There.com along since 2001 and has plenty of experience in watching businesses on the Web, having been eBay's fourth official employee.
Making a Mint
There's little doubt that consumers are becoming increasingly comfortable with using the Web to manage more of their lives, and there's plenty of evidence that many are ready to start utilizing it to manage their finances as well.
Aaron Patzer, the founder and chief executive officer of Mint.com, took the site live in 2007 and is banking, literally, on people trusting the site with their financial well-beings as the page turns to 2008.
Last year, Mint pulled down a US$4.7 million round of financing from venture capitalists and individuals — including early Google investor Ram Shriram — and launched in public beta.
The site says it already has 50,000 registered users, for whom it has helped organize $1 billion in transactions.
Already, technology blogs such as TechCrunch have begun to tout the benefits of sites such as Mint, which offers a venue for consolidating various online banking and money management accounts.
Opportunities Remain
From a distance, it often seems that Google has all but cornered the market on Internet advertising, but plenty of entrepreneurs believe opportunities remain.
Michael Leo, the CEO of New York-based Operative, is one of those businesspeople, and his background gives him an insider's view.
Leo was a cofounder of digital marketing firm Avenue A | Razorfish, a business that Microsoft acquired in 2007 as part of its aQuantive purchase.
Operative's aim is to automate the tracking of online ad campaigns, something often still done manually by even sophisticated Web sites and marketers. Operative saw revenue growth double in 2006 and 2007, and it serves digital publishers such as Dow Jones, MSN, Reuters, CBS Radio, SmartMoney and MySpace.
Upward Spiral
For years, analysts have been predicting that new models for distribution of digital music would emerge with a vengeance, and for years that emergence has been delayed by licensing issues, piracy concerns and other snafus.
Whether or not 2008 is the year that finally happens remains to be seen, but already, the launch of SpiralFrog is being hailed as a watershed event.
Founder Joe Mohen saw his company in the news in 2007 after the company's launch was delayed and it underwent a management shuffle. By the end of the year, the focus was back on the company's unique ad-supported music download business model.
Like many tech entrepreneurs, Mohen is no stranger to success, having founded Election.com.
SpiralFrog may well be a harbinger that 2008 will finally become the year that a range of high-quality music will finally become available for free — legally, JupiterResearch Vice President and Research Director Mark Mulligan told the E-Commerce Times.
The firm's delays may have cost it significantly and more such channels have had a chance to emerge, but even if its financial condition takes it out of the running for long-term winner in the field, it will likely be remembered for helping change digital music options forever, he added.
Green Efforts
On the heels of Al Gore's Nobel Peace Prize and with companies such as Google pledging to end 2008 having reached carbon-neutral status, green technologies will undoubtedly be hot again all year.
Virtually every PC maker is working to make more power-efficient machines. HP has tapped Boston-Power, founded by Christina Lampe-Onnerud, to help build more efficient, next-generation lithium-ion notebook batteries.
Boston-Power's Sonata line of batteries are being designed to match the design life of a notebook computer by retaining their full capacity for three years. The batteries are also designed to recharge twice as fast as the current generation of notebook batteries.
Going Mobile
Nearly everything mobile is expected to be in the spotlight in 2008, and though the mobile payment business has been slow to emerge, it may finally have the momentum to crack into the mainstream.
One firm likely to help get it there is Obopay, which has pulled down nearly $50 million in venture funding since 2005. Equally important, CEO Carol Realini has secured deals with key industry partners, including Citi, Verizon Wireless, AOL and others. More deals are said to be in the works for early 2008.
Obopay allows users to load credit and debit card information onto their mobile devices, which are already being widely used at electronic wallets in some overseas markets. With Obopay, both merchant and person-to-person payments are possible via text messages.