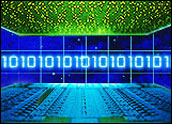 In an effort to develop a standard approach to building and deploying an enterprise grid computing infrastructure, high-technology heavy hitters have announced a collaborative effort dubbed Project MegaGrid.
Dell, EMC, Intel and Oracle are joining forces to combine certain core technologies and technical resources with the common goal of easing the burden of integration for their customers, and developing a complete enterprise grid computing technology that outperforms traditional offerings at a fraction of the cost.
"Project MegaGrid is leading the charge to provide a standards-based blueprint for deploying a scalable grid today," said Judy Chavis, director of business development at Dell.
"Companies can now deploy highly responsive enterprise grids for their business applications with tested and validated platforms from Dell and our partners," she said.
Mega Goal
Project MegaGrid has a mega-goal, but analysts said it is also an achievable one. Rob Enderle, principal analyst at the Enderle Group, told the E-Commerce Times that whenever world-class players come together to focus on one goal, the potential to accomplish that goal is great.
"To make grid work, you need a tremendous amount of cooperation and interoperability," Enderle said. "It is just simply too big for any one vendor. Most of these are class-leading players in their segments and should result in something very powerful."
Dell is providing complete enterprise-class networked server infrastructure consisting of dual Intel Xeon and 4-way Intel Itanium processor-based PowerEdge servers, and related I/O technologies.
For its part, EMC is chipping in with a complete networked storage infrastructure and information management software.
Paul Brown, senior director of alliances for EMC, said Project MegaGrid will offer the best practices to enhance the integration of enterprise grid computing and the storage infrastructure.
"By deploying enterprise grids, our mutual customers can expect increased levels of data protection, resilience, scalability and availability at an affordable price," Brown said.
Phase One
The initial phase of Project MegaGrid is focused on designing, testing and documenting industry standard best practices for building effective enterprise grid computing infrastructures, taking into account the cost and performance requirements.
These practices also include conducting a series of tests for scalability, performance and manageability of a comprehensive database, server and networked storage configuration. The working infrastructure is structured, configured and validated at the Oracle Global IT Data Center.
Intel is contributing processor and server management expertise for both Intel Xeon processor and Intel Itanium processor architectures, optimization tools, and other resources that allow for a seamless design integration.
Phil Brace, general manager for Enterprise Platforms Group Marketing at Intel, said Project MegaGrid will help organizations to better understand the components of enterprise grid computing and to benefit not only from the combined testing and documentation efforts but the inter-relationships between the four sponsors.
"Project MegaGrid shows that high performance enterprise grids can be achieved with cost effective, standardized technologies as opposed to large, proprietary SMP-based systems."
Oracle's Play
Oracle is supplying its Oracle 10g technology infrastructure and is hosting the development center for Project MegaGrid at its Global IT Data Center.
Angelo Pruscino, vice president of Server Technologies for Oracle, said organizations struggling to generate higher use and service levels from their computing and software resources can reduce the time, labor and cost of IT operations by pooling servers and storage into an enterprise grid computing infrastructure to meet changing business demands.
"Project MegaGrid will provide customers with pre-defined and testedtechnology expertise to enable customers to simplify the deployment and management of enterprise grids," Pruscino said.
In addition to the technology provided by the four companies, Cramer and F5 Networks are contributing to Project MegaGrid. Cramer, a telecom enterprise application software (EAS) developer, provides a scalable commercial application to Project MegaGrid featuring full-scale data sets and real-world business transaction processing.
Online Retailer Takes a Test Drive
Organizations can take advantage of Project MegaGrid best practices and offerings today. Overstock.com is working with the four companies to build out an enterprise grid computing infrastructure.
Overstock.com runs EMC, Oracle, Dell and Intel as the cornerstone of its information infrastructure, Overstock.com Vice President of Technology Shawn Schwegman said.
"The work these four partners are doing through Project MegaGrid serves to further simplify and accelerate deployment and provides openly available best practices to simplify management of Grid Computing environments," Schwegman said.
"The combination of Oracle Real Application Clusters 10g running Linux on Dell Servers, attached to EMC networked storage, enables a low-cost, flexible grid computing infrastructure that can scale as a business grows," Schwegman explained.
So Happy Together
Despite the hype, analysts said there will be plenty of challenges for the high-tech players as they move toward their goals.
"Some of the companies don't cooperate very well," Enderle said. "Oracle, in particular, has a pretty bad history with regard to cooperating with others. It's one thing to do the announcement or something like this. It's something else again to actually hold everyone together and execute."
Enderle said this is a long-haul project that will take at least a decade to mature. Project MegaGrid will be demonstrated this week at Oracle OpenWorld at the Moscone Conference Center in San Francisco.