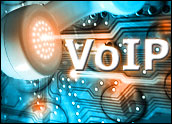 T-Mobile confirmed Thursday it is testing an Internet-based callingplan meant to replace traditional land lines, a move that came just a day after it joined key rivals in announcing a flat-rate mobile plan that could help change the economics of the wireless industry.
The new VoIP (Voice over Internet Protocol) service, Talk Forever, lets mobilecustomers pay an additional US$10 per month for unlimited at-homecalling. It would require the users to purchase a router from T-Mobile, but the low price point could proveappealing.
The test is being run in Seattle and Dallas for the time being. A wider rollout may be necessary to ensure that the pure-wireless carrier will be able to compete effectively with rivals that offer bundled wireless, land line, broadband Internet and television services.
T-Mobile is the smallest of the four major wireless carriers in theU.S., behind Verizon, AT&T and Sprint Nextel. It is owned byGermany-based Deutsche Telecom. Given its position in the market, itis looking to innovate to avoid being trampled by its much-larger rivals.
In addition to leveling the playing field, T-Mobile'soffering could pressure VoIP firms such as Vonage, whose own unlimitedcalling plan comes with a higher monthly price tag. Vonage's basicplan costs $25 per month.
Second Wave
T-Mobile began its expansion into land line territory last year. It rolled out a program that lets subscribers use a WiFi access point to make phone calls from home using their mobilephones — but not burning plan minutes in the process.
The carrier has not disclosed adoption numbers for that service, known as"[email protected]" It requires users to have a phone that canoperate on both WiFi and traditional cellular networks, and suchphones have seen limited adoption.
The new service would be something of a departure from the marketingcampaigns that used "The Only Phone You Need" as a tagline. The VoIP innovation may constitute a recognitionthat many users still are not satisfied with the mobile coverage andquality of service they can get in their homes, said JupiterResearchanalyst Ina Sebastian.
Other carriers have tried to address the same problem in differentways. For instance, Sprint and AT&T are offering cellular boosterstations meant to improve signal reception in the home.
Landlines aren't going away any time soon, but "in particular, youngusers are more likely to want to use cell phones exclusively,"Sebastian told the E-Commerce Times.
"Cellular coverage outside of the home is still most important, butpricing and in-home coverage follow close behind as two top prioritiesfor cell phone users choosing a wireless provider," she added.
Testing, Testing
To get the $10 unlimited in-home calling plan, subscribers need to have amobile plan worth at least $39 a month. They also need to purchase a $50router from T-Mobile. Any traditional phone can be plugged into theconverter and T-Mobile.
Last summer, T-Mobile filed plans with the Federal Communications Commission (FCC) suggesting that it has been working on a VoIP offering for some time. The company has not said how long the Seattle and Dallas tests will run, or when it will make a decision about a possible national rollout of the service.
If it does add a second at-home calling option, T-Mobile will beunderscoring the need to continually update offerings in order to keepmobile customers from wandering to rivals, especially those who have abroader menu of products and services, Forrester Research AnalystCharles Golvin told the E-Commerce Times.
"The competition is very fierce, and with number portability, movinghas become easier," he said. Still, many of the top carriers havemanaged to reduce their churn, in part by adding features quickly tomatch or exceed those of rivals. "Carriers are working very hard tokeep the playing field as level as possible."
That's inherently difficult for T-Mobile, because it lacks theland-line assets that most of its rivals still maintain, noted Golvin.
The move may be a harbinger of additional creative solutions to come. T-Mobile is expected to debut a more advanced wireless data service built on the wireless spectrum it won in an FCC auctionin 2006.
The carrier tried to get ahead of the competition this week when all themajor players — except for Sprint — unveiled flat-rate, all-you-can-eatmonthly mobile plans. While AT&T and Verizon are offering unlimitedcalling for $99 per month, T-Mobile sweetened the deal by including unlimitedinstant messages, text messages and photo messages.
T-Mobile reported in January that it added more than 950,000 new subscribers inthe fourth quarter, though it missed its own targets for all of 2007.