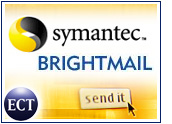 Symantec has announced it will buy spam-filtering company Brightmail in a deal worth US$370 million, adding spam-stopping capabilities to its antivirus and security gateway.
The all-cash deal is expected to close in July, and Symantec said it is "too early to estimate" the impact of the acquisition on its revenue and earnings.
The two companies are hardly strangers. Brightmail already markets an antivirus product that uses Symantec tools, and Symantec already owns an 11 percent stake in Brightmail as the result of a July 2000 investment.
Growing Problem
Symantec, which sells its own brand of spam-filtering products, said the move underscores the rise of spam as a scourge for both individuals and corporations.
"Spam has increasingly become one of the most severe threats," said John W. Thompson, Symantec chairman and CEO. He noted that spam now tops viruses as the "number one problem plaguing e-mail systems and administrators."
Brightmail's technology will become part of what Symantec calls a "comprehensive gateway security solution" and will give the security firm access to some of the tools that have helped Brightmail become one of the most respected and widely used anti-spam firms, including software that essentially teaches itself to recognize unwanted e-mail.
The firm claims its filters falsely identify legitimate messages as spam only once for every million messages they process.
Focus on Spam
"When we look at what's going on at the gateway, spam is definitely a major issue," Steve Cullen, senior vice president of security products and solutions at Symantec, told the E-Commerce Times. "Not just for the ability of malicious code for come in through spam, but just the latency on networks and the hassle that spam is for everybody."
Cullen said Brightmail's technological edge on competitors, including its 99 percent success rate and low false-positive numbers, make it the "category leader."
How the two companies will be integrated will be looked at once the acquisition clears regulatory hurdles, Cullen said, noting that the Symantec A/V solution is available through Brightmail already. "A lot of that integration question is already answered," he said.
Exit Strategy
Still, the acquisition came as something of a surprise to followers of Brightmail, which previously was taking small steps toward an initial public offering worth an estimated $80 million.
Given its position in the anti-spam marketplace, the San Francisco-based firm seemed poised to capitalize on renewed interest in technology stocks, particularly given its position in the anti-spam business.
The companies did not disclose how long the merger has been in the works, but Brightmail said in a statement that shortly after filing to go public with the U.S. Securities and Exchange Commission in March, the firm's board of directors "determined the combination with Symantec to be a more favorable strategic alternative."
In addition to sharing technology, the companies have overlapping customer bases. Brightmail said it has some 1,800 enterprise customers, including eBay, Cisco, Lucent, Microsoft and SAS, as well as several large Internet service providers, such as AT&T WorldNet, Cox Communications, MSN and EarthLink.
All in One
The latest security industry consolidation underscores a long-running trend by leading firms to roll up many technologies and products into a single network security portfolio. Rival Network Associates began the trend, with Symantec following suit by acquiring PowerQuest, SafeWeb and ON Technology in 2003 alone.
Gartner analyst Richard Stiennon said the acquisition fits with Symantec's overall strategy to offer an array of security features to customers.
Brightmail is an important target both because spam is going to continue to eat up more of the security budgets at enterprises and because of the company's leading position in the spam-filtering market, Stiennon told the E-Commerce Times.
"It's not enough to make acquisitions. The targets have to be the best in their space in order make a real impact," he said.
The move also may be a hedge against erosion of its antivirus base from a pending threat from Microsoft, which last year purchased a Romanian antivirus software firm and announced future versions of its desktop operating system would have built-in virus-stopping capabilities.