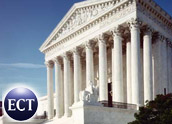 The California Public Employees' Retirement System (CalPERS) must proceed with its securities fraud lawsuit on behalf of WorldCom bondholders in federal, rather than state, court, after the U.S. Supreme Court today chose not to review the jurisdictional matter.
Two federal statutes disagreed on which court should hear the litigation. The 2nd U.S. Circuit Court of Appeals, in New York, had ruled that the lawsuit belongs in federal court because it is "related to" the telecom giant's bankruptcy case. The Supreme Court today chose not to review the appellate court's decision.
Better Environment for WorldCom
That lower court ruling consolidated the CalPERS' suit with separate class-action filings in federal court in New York against WorldCom, its officers, bond underwriters, directors, accountants and research analysts by investors who lost billions in the aftermath of WorldCom's multibillion-dollar accounting scandal in 2002.
Steve Kardell, an attorney at the Dallas law firm of Clouse Dunn Hirsch, told the E-Commerce Times that this ruling provides a more favorable environment for WorldCom, which emerged from bankruptcy last year and now operates under the name MCI in Ashburn, Virginia.
"The reason the plaintiffs wanted to be in state court is because the pleading standards are much more lenient from the plaintiff's perspective," Kardell, who is also an adjunct professor of law at the Southern Methodist University Dedman School of Law, explained.
Securities Reform Act
He added: "As an example, a federal securities class action had some time ago been thrown out in Mississippi by a federal judge. Many commentators thought that the judge's decision was incredible, but we presume that the judge followed the law in terms of pleading standards in federal court, which are far more defendant-favorable than they would be in state court."
The reason the pleading standard in federal courts is so tough, Kardell said, is because of the Securities Reform Act of 1995, which considerably raised the pleading standard and burden of proof for plaintiffs in federal securities lawsuits.
WorldCom's stock rose in the wake of the Supreme Court's action, and Kardell said that "stands to reason" because the prospects just got a little better for the telecom giant.
Other Developments
The Supreme Court news comes a day after an attorney for Alabama's pension system announced a settlement in the fund's suit against Bear Stearns Cos. The pension fund sought US$16.2 million from Bear Stearns to recoup losses stemming from the WorldCom bankruptcy.
Further, last week 10 former WorldCom board members agreed to pay $54 million out of their pockets to settle their portion of a related lawsuit last week.
The Supreme Court case is California Public Employees' Retirement System v. Ebbers, 04-366.