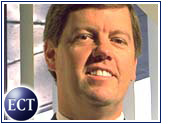 Sun Microsystems (Nasdaq: SUNW) has unveiled its next-generation chip and family of computers, promising faster serving of Web pages and a stronger foundation on which future Internet ventures can be built.
The Palo Alto, California-based company addressed journalists in New York about the merits of Sun's new UltraSparc III chip, the basis for a family of new workstations and servers. The new products, known as "Sun Fire" and "Sun Blade," will not be available until early next year.
Crowded Field
Sun still dominates the market for Web page servers, but the competitive landscape is changing. On Tuesday, Intel Corp. (Nasdaq: INTC) unveiled a chip designed for servers that deliver Web pages with voice interaction. Intel's chips are part of a platform of hardware and software targeted toward the nascent voice-activated Web market.
Intel, which rattled Wall Street last week with an earnings warning, is trying to lessen its dependence on the personal computer market.
Meanwhile, never far behind, Microsoft Corp. (Nasdaq: MSFT) said Tuesday that it is preparing to plunge into the market for Internet servers. As part of the company's .NET initiative, the software maker is moving "from the PC-centric view of the world to the Internet environment," a Microsoft senior vice president told Reuters. The new challenges follow recent moves by IBM and Hewlett-Packard into the server market.
Five Times Faster?
Sun executives said that in the short term, the new configurations will double the speed at which computers serve up Web pages and perform other tasks. But the new chip will allow products released over the next several years to be up to five times faster, the company said.
Sun's launch has already been pushed back several months, a move analysts say reflects the embarrassment Intel suffered earlier this year when it was forced to recall some of its Pentium III chips for further testing and development.
"All platforms will be rolled out in the next nine to 12 months," Shoemaker said. While the products were originally scheduled for shipment this December, the delays are not "outside the norm" in the industry, he added.
Strategy Shift
Sun Chief Marketing Officer John Loiacono said the new chip is part of a long-range strategy shift. Called "The Net Effect," the shift recognizes the need for improvements in Web infrastructure. Faster servers are seen as a crucial backbone for an Internet increasingly based on high-speed connections, as broadband becomes more widely adopted.
"Tomorrow we're going to look at the convergence of the television, the phone, the cellular network into one medium," Loiacono said, noting that Sun traditionally re-evaluates and adjusts its strategy every five years. "People are now looking at that and wondering how to leverage that bandwidth."