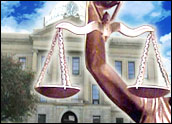 Two advertisers have filed a lawsuit against Google, saying the search giant did not live up to its promise to cap the amount of charges advertisers could incur in any given day.
The suit was filed in the Superior Court of California in Santa Clara County and seeks class action status, which would enable all other AdWords customers — potentially hundreds of thousands — to join the suit.
For now, the suit lists two plaintiffs — Minnesota-based industrial printing firm CLRB Hanson Industries and Howard Stern, though the latter is apparently not the so-called shock jock radio personality, but rather a different user of the AdWords program.
Daily Limit
The suit claims that the daily limits that users of the AdWords automated ad-placement system can set are misleading and that those involved in the suit were billed well in excess of the daily caps they set.
Through its AdWords program, Google does indicate that it will refund customers charged more than 120 percent of their daily ad budget. However, the suit claims that in several cases, one of the plaintiffs has had his account overcharged for between 121 and 162 percent of his budgeted daily payout.
Two law firms are listed on the suit: Wolf Popper of New York City and Alexander, Hawes & Audet of San Jose, Calif. Neither firm immediately responded to requests for comment from the E-Commerce Times.
The suit makes eight separate complaints, including breach of contract, fraud and "unjust enrichment," and seeks an injunction against Google as well as other, unspecified monetary relief. The complaint says that a true accounting of how much damages plaintiffs are due is difficult "without a detailed review of Google's books and records."
Google spokesman Steve Langdon told the E-Commerce Times: "We believe this lawsuit is without merit and we will defend against it vigorously."
Self-Service or No Service
The complaint suggests that Google did not live up to promises made to advertisers in the AdWords program that they could set a dollar-amount cap above which they would not be charged for click-throughs in any given 24-hour period.
The case might be important because of the reliance on automated systems to buy and place advertisements. Such options are seen as necessary, particularly for smaller advertisers who want to get into the AdWords system. The model is one duplicated by Yahoo, and Ask Jeeves recently launched its own self-service, auction-style advertising system that enables marketers to bid on which keywords they want to have their paid listings appear under.
Search Engine Journal Editor Loren Baker said the case might highlight shortcomings in the technological approach that Google employs for self-serve ads. It's also possible that the sheer volume of paid search listings handled in any given day makes it difficult for the search engine to monitor all accounts closely enough to prevent overcharges.
"Being that so many businesses build their marketing budgets around Google AdWords, you'd think Google would be able to get their daily budgeting tool in order," Baker told the E-Commece Times. "TV, Radio, and other traditional 'low tech' media do not seem to have much trouble with doing so — neither does Yahoo."
Indeed, the self-service nature of such ad programs has been a bone of contention among the smaller publishers and marketers the services are meant to serve, with many bemoaning the lack of live customer service help available.
Big Target
Google has become a target of a range of lawsuits, a function, analysts say, of both its rapid growth and newfound success as well as the nature of the business in which it operates.
In addition to the suit alleging overcharging for AdWords, a second recent lawsuit filed by Miami, Florida-based Updated.com claims that Google has not made good on promised payments for referrals from the Updated Web site to Google advertisers.
The search giant also has been embroiled in a legal situation with Microsoft over the hiring by Google of a former Microsoft executive. Kai-Fu Lee, who was also sued by Microsoft after taking a post with Google, is reported to be heading up Google efforts to move into China and other emerging markets.