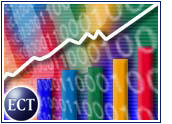 Even as high-tech companies rethink the scope of their e-commerce investments, optimism about short-term economic and business conditions remains strong, according to a study released Thursday by PricewaterhouseCoopers.
"By tightening the reins at this time, industry leaders are looking to build upon a recent improvement in profit margins," said Paul E. Weaver, a leader of PricewaterhouseCoopers' technology and industry program.
To gauge industry trends for its third-quarter "Technology Barometer," PricewaterhouseCoopers surveyed 150 chief financial officers and managing directors of large, publicly-held businesses — including their high tech subsidiaries — and 222 chief executive officers from smaller, privately-held companies.
"This is a good time for all business to be concentrating on productivity," Weaver said. "Offsets are needed from the dramatic increases in energy prices and the skidding euro."
Hike in Net Transactions
Overall, revenue growth estimates for the next 12 months are 26 percent, the report found, a 5 percent increase over last quarter's projection.
Researchers attributed this gain to the considerable strides being made by large businesses, which are expected to grow by more than 19 percent.
Industry executives are banking on the Internet to help spike their earnings. Currently, half of the companies surveyed are involved in direct sales online. Those companies expect online transactions to amount to about 13 percent of their total revenues over the next year, a 26 percent increase from last year.
In addition, respondents project that their total Net-related revenue contribution, including direct and indirect sales, will climb to over 16 percent.
"For the most part, the uptick in optimism seen by industry leaders may be attributed largely to the high hopes they hold for e-business," said Weaver.
Scaling Back
Despite this rosy outlook, many tech firms are taking concrete steps to improve their productivity.
The report found that businesses are looking to curtail major new capital investments. Although over half of the executives cited commitments to significant financial investments in the areas of new product development, information technology and Internet commerce over the next year, they are now looking to spend less.
In addition, firms are growing increasingly concerned about inventory increases. During the third quarter, 37 percent of businesses reported higher inventories, representing a net gain of 12 points after several years of net declines.
Also, although 77 percent of those surveyed plan to increase their workforce over the next 12 months, that figure constitutes a two point dip from the last quarter.
Barriers to Growth
While skyrocketing demand for qualified workers has left many tech companies in the lurch, the survey found that 71 percent of industry executives believe this issue is the top barrier to growth they must overcome.
The pressure for increased wages and lack of product demand by consumers were also cited as potential hurdles.
Notably, e-commerce taxes ranked lowest on the list of possible obstacles to their development, with only 6 percent of respondents saying that it would hinder their growth.