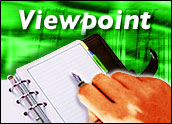 I often hear people express fear at the "threat" of future regulation by a government agency. I have to admit I have the opposite reaction.
As leaders in the world of e-commerce and online communication, we are in the driver's seat to either show that we are serious about ethics — or that we need adult supervision. As we all know from growing up, when you get adult supervision, you don't always like it, but you often deserved it.
Take social media. It is an amazing new discipline that is in the process of transforming how 1.67 billion people define the way we do business. It's nothing short of a revolution in the making. It's changing our shopping experience worldwide. It represents the best opportunity we have ever had to speak directly with our customers and learn from them. Yet, as new as it is, many of us are not learning along with the advances.
The reason so many communicators and marketers are choosing to ignore this sea change is obvious. People like to make it easier on themselves when transformative change is going on, so they discount it or simply assume they will learn by osmosis. In today's online world, however, if you aren't taking time to become a student of how the world is changing via social media, then you're falling behind on a daily basis. When 500,000 new people go online for the first time in their lives every day, it ain't regular change.
When it comes to ethics, applying yesterday's model or looking the other way is never good — and, to be candid, I'm seeing too much of this as I work and talk with many companies in the Fortune 1000.
5-Minute Demolition Project
As an example, ask yourself if you know how you are utilizing social media to impact natural search. Ask yourself if you know what your agency and the subcontractors it hires are doing, precisely. Ask yourself if you know what "sponsored conversations" really means? Ask your agency to tell you exactly how it handles outreach on your behalf.
The short answer is many of you don't know. In fact, a cottage industry is forming of companies that "achieve results" by gaming the system. They write fake blog posts or encourage reviews by people who didn't really review your product, or they are paying pennies for people to "learn and write" about your product.
If you are an agency CEO or company CMO, I am sure you pride yourself on ethics. You believe fake is bad. You don't see gray areas. You see "right" and "wrong." You never did fake testimonials in print. You never hired spokespeople to fake their experience in a commercial. You know the answer.
Still, do you have a clear policy on social media that everyone who works for you adheres to? Do you have clear rules of the road for how one should represent your brand online? Do you know what the best practices are for the industry? Are you sure?
As Warren Buffet has said, "in the business world, the rearview mirror is always clearer than the windshield." He also said something else critical to think about: "It takes 20 years to build a reputation and five minutes to ruin it."
Muddy Water Washed Away
We live in a world where three out of four peers look to their friends for advice before they make a decision about their health, or a major purchase, or any other important issue. Companies don't have the bully pulpit anymore. Rather, we have to earn our way into the conversation, and we accomplish this by being respectful, building trust and, essentially, behaving like a trusted peer.
So, when I see firms — small, medium or large — defending their disclosure policies, I see a problem. When I see advocates of sponsored conversations, for example, explain how it is OK to pay someone to speak on a specific brand and customers will be fine with it because they have a disclosure icon, I get concerned.
After all, they represent your brand, and my experience tells me that customers are not stupid. They may not understand what is happening while the windshield wipers are valiantly wiping away all the rhetoric — but eventually, clarity emerges in the marketplace.
When clarity emerges, your reputation will be right in the center. It's worth wondering whether your board of directors would be proud of how you promoted and protected your brand. Think ahead a year or two, and imagine this scenario.
The lesson based on my experience working for Fortune 500 companies on both sides of the Atlantic is that ethics is not as subjective as it sometimes seems. Your reputation should be guarded with care.
Red Alert
What's the good news? This is all achievable. You need a super-clear online policy, disclosure guidelines and rules of the road that every member of your team — whether it's the person in the next cube or a subcontractor a continent away — adheres to. Anyone who touches your brand is part of your team and should live by your standards.
I won't name brands or firms. I find that counterproductive. However, I will say that it is time, right now, for you to take this seriously. As the FTC gets ready to provide guidelines and the FDA holds a public hearing Nov. 12 and 13th, don't get hung up defending those in the gray area. Protect your brand by doing the right thing now and forever after. Don't wait for regulations to tell you what you know you should do.
Or, don't do anything and smile when adult supervision is offered by the FTC or FDA or other regulating body for your industry.
We are not in a gray area. It's a red area. Act now, before it becomes a "read area" about your brand in the news.
---
Bob Pearson
is chief technology and media officer for
WeissComm Group
and chief evangelist for the
Social Media Business Council
.
---