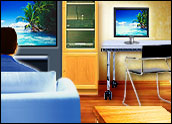 The growing popularity of online video has become the tipping point for advanced CE (consumer electronics) in the home. Consumer interest and demand for this content — from user-generated videos of stealthy cats to streams of classic 1980s shows like "Airwolf" — have prompted service providers and CE manufacturers to expand outward on the possibilities once video is tied and intertwined with other signals coming into the home.
Already almost 30 million adults in the U.S. are watching TV shows on the Internet, using services like Hulu, Joost, and Veoh Networks, as well as the portals from the major broadcast networks.
This growing demand for online video is not moving people to pull the plug on their traditional household services — less than 1 percent of the broadband households watching or downloading TV shows from the Internet do not pay for entertainment services. So the vast majority of households have cable, satellite, fiber, or telco video signals coming into the home — and the CE delivering these signals is getting more sophisticated.
Visual Networking
Carriers have marketed and installed advanced set-top boxes and DVRs that can leverage broadband connectivity to download content from the Internet and personalize the TV-viewing experience. CE manufacturers, in turn, have been adding Internet capability to all types of devices, with connected TVs leading this new wave of advanced products.
As advanced CE opens more possibilities, one avenue of new business is in social networking, which becomes "visual networking" when collaborative social networking solutions and applications are combined with video.
This transition to visual networking will start with basic applications, such as the ability to share YouTube and personal videos among devices. Providers will further expand their traditional communications and television services to incorporate features such as videoconferencing, chat, and community-based recommendations in electronic program guides (EPG). Consumers will also be able to get more community-based applications, such as local news and event calendars, school lunch menus, videos of town council meetings, and integrated recommendation and transactional services like Craigslist and Angie's List.
The question is whether consumers are ready to adopt a more video-centric social networking experience. Current demand, as measured in Parks Associates' consumer surveys, is low, which is to be expected given the relative newness and novelty of this field. However, at the same time, consumers are simply not interested in a replication of Facebook or MySpace on a separate television channel. Such an offering is not compelling.
Smooth Blend
A more successful service would be a subtle blend of social networking features — recommendations, sharing, and chat — woven into a video-centric experience. Responses from consumers in both quantitative and qualitative studies show interest in community-oriented services via TV-based programming. Consumers are responsive to a service that connects with them on a personal level and provides local, school and neighborhood information as well as videos of local government meetings on specific channels.
A challenge in mixing these types of personal and social media with traditional video is in the presentation to the consumer eye (and making it navigable for the remote control). Viewers are already inundated with thousands of options — adding more content risks burying a great idea at the end of a long line of home shopping channels. It is important for the industry to develop intuitive EPGs that can help people find preferred content based on behavioral, contextual and demographic information and can incorporate recommendations from trusted contacts without overwhelming the viewer.
That ability to make and share recommendations will be a key function in bringing people to TV 2.0 services — and can also help carriers and manufacturers (partially) solve the riddle of how best to organize content for the individual viewer. Regardless of all the content search and discovery applications available, people still rely on recommendations from friends and family to discover new music and video content, whether it be on TV or the Internet. A key feature from the online experience that needs to move into the TV area is the viral sharing of content — for example, approved contacts should be able to e-mail a program or a "Watch this!" link, which conveniently appears in the viewer's set-top home page.
As recommendation and community features become more integrated with the video experience and more intuitive (non-distracting) via the EPG, these offerings will become important tools for discovery of video content — and important services for providers to entice their subscribers. Programmers can encourage new viewership, and advertisers will be able to create more interactive marketing campaigns that encourage viral viewing of popular advertisements via a television interface. However, companies have to take the right approach in integrating social networking with the TV experience. If the approach is not intuitive, personal, and innovative (i.e., distinct from what people already see on the computer screen), visual networking won't entice audiences and won't open up these business opportunities.
---
Jayant Dasari
is a research analyst at Parks Associates.
---