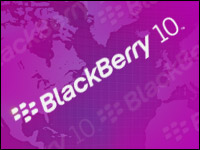 Research In Motion on Monday announced the date on which it has pegged its future: The BlackBerry 10 operating system and two new handsets running it will be officially introduced on Jan. 30.
"The event will happen simultaneously in multiple countries around the world," said RIM spokesperson Kim Gieger.
One of the first two BlackBerry 10 smartphones will have a touchscreen, and one will have a QWERTY keyboard.
Lead Up to Launch
The biggest outstanding question: Why is RIM announcing the official unveiling so far in advance, especially since what users can expect is no secret?
"RIM has to ship the BlackBerry 10 in a reliable solid condition, and the announcement that RIM is launching on Jan. 30 fits with the timescale that RIM chief executive Thorsten Heins set out when he delayed it from the autumn to Q1," said Ian Fogg, senior principal analyst and head of the IHS mobile sector at IHS iSuppli. "This is delivering on the promise to deliver the device in Q1 2013."
The timing could also convince those thinking about a new handset — especially with so many options — to know what is just around the corner.
"This autumn has been filled with multiple mobile phone launches, as many companies have introduced new hardware," Fogg told the E-Commerce Times. "It has been a very congested period, and there will be less noise from the competition around their launch. It might have been their intention, but they could benefit from having to delay the platform's launch."
More importantly, by sending the message that the launch is happening, RIM can encourage those companies or individuals who are thinking of purchasing an Apple or Android device to delay their purchase, Fogg added.
"Normally companies won't make that announcement because of the adverse reaction it will have on current product line," he stressed, "but this is a way for RIM to tell consumers to wait until January to make that decision."
Too Little, Too Late?
The other part of the equation is whether coming out late is just a replay of past RIM moves — when its products have arrived after more advanced devices already hit the market. In a market where it pays to be first or most innovative, RIM has been flopping.
"The date, being later than initially expected, has already done what damage it will to RIM's brand," said Chris Silva, industry analyst at the Altimeter Group. "Fact is, loyalists and a number of business users struggling with their new iPhones — or other handsets — have a lot of hope for the next wave of devices. There's still some loyalty sentiment they can fall back on."
Even if RIM can get consumers and businesses to wait until Jan. 30, the next question to ask is how much longer they may have to wait after that?
"Will BlackBerry 10 be on sale and in the market Jan. 30, or is this just an announcement with a rollout further down the road?" asked telecommunications analyst Jeff Kagan.
Finding the Balance
What could stand the BlackBerry apart is that RIM seems to be moving forward by bringing out two versions — one that could appeal to those who envy the touchscreen of iOS and Android devices, while also staying loyal to the traditional BlackBerry users.
"As for the two versions, I think they had to come to market with a keyboard-carrying version" said Silva. "It's their trademark and one hardware differentiator that they had."
However, its greatest strength might be what BlackBerry has always offered — namely, security.
"RIM has a few different features which distinguish it from its competitors," said Fogg.
"The strongest differentiator is the BlackBerry Balance. This allows individuals to have two sets of information on the same device," he explained, "where their personal information, contacts and email items are free from the company seeing it, while at the same time letting the company know that business data and information is protected from risk."
Going for Third
Given the success of the Android and iOS devices, it is unlikely that RIM can reclaim its glory days — but the market continues to change, and RIM may be looking to simply stay in the game.
"The other piece that is striking that is Android and iOS are well established and will be around in the future as the dominant players," said Fogg, "but this is really about being third in the market. Microsoft hasn't executed the launch of Windows Phone 8 as well as they should have done."
That could leave an opening for RIM.
"RIM will never recapture the No. 1 spot competing with Apple and Google, but they can still do well if they can rise to No. 3 and stay there," Kagan told the E-Commerce Times.
That could require something besides delivering the next new handset, though. The days of more of the same aren't going to be enough, given the increased competition.
Still, it is too soon to eulogize the company.
"BlackBerry 10 has to be a significantly improved technology," Kagan added, "and RIM has to learn how to improve their PR, advertising and marketing — something they never had to do in the past."