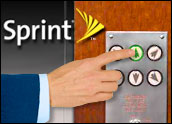 Sprint Nextel formally announced plans to make a major bet on WiMax, a next-generation technology for high-speed wireless Internet communications that the telecom and wireless company plans to invest as much as US$5 billion in over the next 10 years.
Sprint announced it will market its WiMax offering under the brand name Xohm — pronounced "Zoam" — and that some users in Chicago and the Baltimore/Washington area could begin seeing service rolled out before the end of this year. More markets will be added early in 2008, and by the end of next year as many as 100 million Americans will have access through either Sprint or partner Clearwire.
WiMax was one of several technologies that Sprint highlighted during the Sprint Ahead Technology Summit event at its Reston, Va., headquarters on Thursday.
A Big Bet
The company also demonstrated some of the benefits of its Pivot service, through which cable subscribers can choose a bundle of service that includes closely integrated Sprint wireless. It also touted its efforts to create a next-generation of the walkie-talkie style push-to-talk service that Nextel had pioneered.
"We've executed the technology plan we laid out when we merged two years ago and, in doing so, we have advanced our vision of becoming the mobility services leader," said Gary Forsee, Sprint chairman and CEO. "Our unique set of assets allows consumers to live the mobile lifestyle and businesses to increase productivity by making any place a workplace. Sprint is best-positioned in the marketplace to offer these capabilities."
The WiMax bet is both the biggest and the boldest one for Sprint, which has struggled to keep pace with rivals such as AT&T and Verizon. While the so-called "4G," or fourth-generation, network could offer far faster connectivity speeds than the 3G networks embraced by other carriers, Sprint is making a sizable investment in a yet-to-be-proven technology for which few products have been brought to market as of yet.
Building Momentum
WiMax offers the prospect of connecting to the Internet with mobile devices at speeds that are up to five times faster than current technology allows. As important as the service, however, is that Sprint continues to sign up key partners to offers services and design devices to work with the network.
Thanks in large part to its Clearwire partnership, Sprint will have a broadband wireless network in place two years ahead of many competitors, Foresee said.
Sprint is seeing "significant momentum" around its WiMax push, said Barry West, the company's chief technology officer. Sprint has already announced partnerships with Clearwire to build out the network and with Google to design consumer and business services to take advantage of the network.
By 2010, West said, Sprint and Clearwire will reach 48 million households and five million small businesses via WiMax.
Hardware makers are also at work on devices customized to work on the high-speed networks, with Texas Instruments saying it will build chipsets for devices that Motorola will make to work on the Sprint grid. Nokia and Samsung are also set to debut WiMax phones by early next year.
"WiMax could be a huge growth opportunity nationwide for Sprint," telecom analyst Jeff Kagan told the E-Commerce Times.
Sprint's efforts have gained credibility thanks to high-profile partners such as Google, he said. "This looks very promising," Kagan added.
Paying Dividends
Also by 2010, Sprint said it could see between $2 billion and $2.5 billion in new revenue from the WiMax push. The company is prepared to invest $2.5 billion in the build-out between now and 2008 and may invest that amount again in the years after that. It will take until 2011 before the WiMax business is cash flow positive, Sprint added.
As the third-largest wireless carrier, Sprint has also seen its growth rates fall below those of its top two rivals. Betting on a technology not yet proven is a risky move, but one that could pay major dividends.
While it's not yet proven, WiMax has some major backers, with Intel and other major chipmakers promising to develop families of products to support devices — smartphones, consumer electronics and personal computers — that work on the technology.
WiMax may not dislodge 3G cellular networks as quickly as it usurps the paid-WiFi hotspot model, JupiterResearch analyst Ian Fogg told the E-Commerce Times.
"WiMax is still a technology searching for its best market niche," Fogg said. Timing will be critical and by getting its network up and running as soon as this year, Sprint may help convince wireless users to build WiMax devices into their buying plans in the near future, though it will still take time for that shift to occur.
While a nationwide high-speed network is an appealing marketing hook, Fogg said many users are more likely to need only municipal-wide high-speed Internet access, or access in specific areas, which WiFi can still provide. A key factor will be how WiMax services are priced, he added.