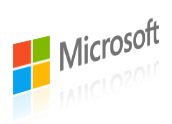 Microsoft said Monday that Windows and Windows Live President Steven Sinofsky will leave the company. Julie Larson-Green has been promoted to lead all Windows software and hardware engineering, and Tami Reller will assume responsibility for the business of Windows while retaining her role as chief financial officer and chief marketing officer.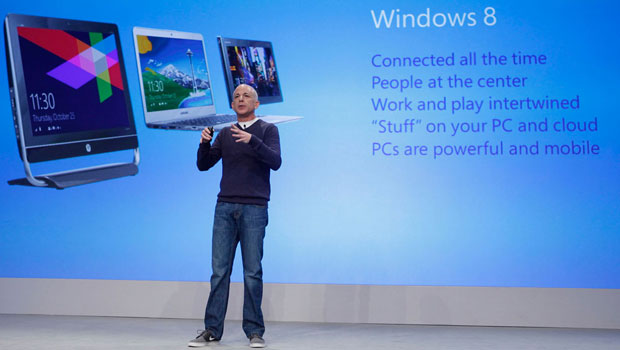 Steven Sinofsky addresses the crowd at Microsoft's New York Windows 8 launch event in October.
Larson-Green and Reller began reporting directly to Microsoft CEO Steve Ballmer on Monday.
"I am grateful for the many years of work that Steven has contributed to the company," Ballmer said. "The products and services we have delivered to the market in the past few months mark the launch of a new era at Microsoft. We've built an incredible foundation with new releases of Microsoft Office, Windows 8, Windows Phone 8, Microsoft Surface, Windows Server 2012 and 'Halo 4,' and great integration of services such as Bing, Skype and Xbox across all our products. To continue this success it is imperative that we continue to drive alignment across all Microsoft teams, and have more integrated and rapid development cycles for our offerings."
Sinofsky's departure comes less than a month after the release of Windows 8, the latest version of the Microsoft's computer operating system, and the Surface, its first release in the tablet hardware market. However, it appears unlikely that the timing of Sinofsky's departure is related to any quality issues with Windows 8 or the Surface, or their reception in the market.
Old Guard vs. Young Turks
Sinofsky is a 23-year Microsoft veteran. In an ironic twist, his exit comes just two weeks after Scott Forstall's departure from Apple. Both Sinofsky and Forstall had been in charge of divisions that were taking their respective companies in a new direction. So are these both examples of the old guard fending off incursions by so-called Young Turks?
"Typically, when an executive as highly placed as Sinofsky leaves a company, it's either due to individual responsibility or personal ambition," said Charles King, principal analyst at Pund-IT.
"In the former case, the exec is asked to fall — or is forcibly dropped — on his sword following a major strategic or tactical debacle," he noted.
"Scott Forstall's recent departure from Apple, due at least in part to his role in the iPhone Maps fiasco, is a good example of this," King told the E-Commerce Times.
Fall of the Heir Apparent
The fact that Sinofsky is leaving does come as a bit of a surprise, given that he was seen as the heir apparent to Ballmer. His role with Windows 8 and the Surface — both of which have enjoyed positive reactions — adds to the unexpectedness of this twist.
While it doesn't appear that Sinofsky attempted to push Ballmer out, it is unclear what exactly transpired.
"The sudden nature of this suggests some kind of personal problem," said Rob Enderle, principal analyst at the Enderle Group. "Departures in the past that were this sudden had to do with affairs with employees coupled with improper expense approvals, theft, etc."
Another line of speculation is that Sinofsky may have had ambitions that didn't gel with those of Ballmer's,
"Sinofsky is a climber and was known for his ability to get things done, but also for his empire building and unwillingness to work with others, forcing a lot of rivals to leave the company," Enderle told the E-Commerce Times.
"It [is] likely he moved against Ballmer with Gates and got shot in the process. However, Sinofsky clearly saw what happened to Bob Muglia, who apparently made a similar move, and he is believed to be a smart guy — so either his ego got ahead of his brain, or the real facts beyond his departure lie in other areas."
Failed Coup Theory
Perhaps Sinofsky was set up to take the fall if Windows 8 or the Surface failed completely. In that case the buck would — rightfully or otherwise — have stopped with Sinofsky. However, given that both products look to be heading in the direction Microsoft needs them to go, Sinofsky's exit could be chalked up to too much ambition.
Maybe this should have been seen coming.
"During the launch talk, he was unusually nervous and behaved as if he was worried about something going personally badly," said Enderle. "At the time, [it seemed] he had been poorly rehearsed, but everyone else was rehearsed well."
It is unlikely his nerves had anything to do with Windows, though, as it is too early to assess the success of that product, Enderle pointed out.
Moreover, his replacement, Julie Larsen-Green, was an advocate of the new interface, which is the riskiest part of the new OS. So could it be that he wasn't up to the coup in the first place, and may have known he would soon fall on his sword?
"In the case of personal ambition, an executive chooses to leave after recognizing that his or her grand career plans will never come to pass," said King. "This seems the likelier scenario in Sinofsky's situation, since it's way too early to tell whether his most recent area of responsibility –Windows 8 — will be a success or a bust."
The end result is that for the time being, Microsoft will remain on course under Ballmer, and it could be too soon to even hint at who might succeed him.
"Rumors suggested that Sinofsky coveted the CEO chair at Microsoft," King added. "His departure also qualifies as an indicator that Steve Ballmer will continue to lead the company."