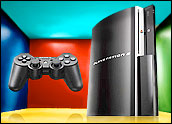 Sony's PlayStation 3 video game console showed in September that it still was able to pack a bit of a punch, dethroning Microsoft's Xbox 360, according to the NPD Group. The Xbox 360 had been the top-selling video console for 32 straight months since January 2011.
The Xbox 360 also passed a significant milestone, though, reaching sales of more than 80 million systems sold worldwide. Nintendo reported impressive Wii U sales in September too. Units sold more than tripled month-on-month following a price cut and release of a limited edition bundle that included The Legend of Zelda: The Wind Walker HD.
Sony's sales were given a boost by the arrival of Rockstar Games' Grand Theft Auto V, which generated US$1 billion in sales during its first three days, setting an industry record. That single title pushed sales up 52 percent compared with the same time last year. Sales for the month were just under $1.9 billion, according to NPD.
Waiting Is Over
While GTA V is available for both the PS3 and Xbox 360, sales reportedly have been stronger on Sony's system; some gamers may have opted to get a PS3 along with the game.
"What we are seeing here is that there is a life cycle to certain types of products, and there is a time when those products slow down, which is what the Xbox 360 may be experiencing," said Susan Schreiner, consumer electronics industry analyst at C4 Trends.
"There is uncertainty that comes into play with all these devices. There comes a wait-and-let's-see attitude, instead of just going and buying it, and that may have been the case," she suggested.
"People are now picking up a PS3 when they didn't have one already," noted Schreiner.
Multiple Console Households
Gamers may be testing the waters to determine which new system to buy in the coming months. Those who already owned an Xbox 360 may have opted to pick up a PS3.
"It isn't a whole lot of people entering the market, but that is still a part of it," said independent video game analyst Billy Pidgeon. "It could be multiple console households who may not have had both systems.
"Everyone who wanted an Xbox already had one," Pidgeon told the E-Commerce Times. "There is the saturation. Part of it is replacement, and part of it is going to be kids growing out of Nintendo or even growing into their first console."
Sony's Resurgence
Sony is riding high after a very successful unveiling of its upcoming PlayStation 4, which will be released next month.
"Sony has a lot of energy, and they are riding a wave that they haven't ridden in many years," Schreiner told the E-Commerce Times. "There is almost a new spirit and newfound determination. Sony has been a lot more aggressive, and we're seeing this in the pricing and the packaging."
Sony is upping its game ahead of the PS4 launch.
"Based on my observation of marketing for Xbox and Playstation, Sony may have an advantage this holiday," said Ted Pollak, senior analyst for the game industry at Jon Peddie Research.
"Maybe I'm not looking in the right places, but other than a few billboards, I have not seen much advertising for Xbox," he observed.
"Of course, all the TV commercials for PlayStation cost a good chunk of change, so it will be interesting if that investment pays off," Pollak added. "From my perspective, it is looking good for PlayStation during the holidays."
Next-Generation Portent
September's sales could also be a good indication of how things could go down next month, when the next-generation systems arrive.
"Sony is enjoying some PR bounce. … They have a better marketing story right now, so that could help them with the PS4 launch. But it isn't clear how much the Xbox One is really being affected by the negative news at this point," Pidgeon said. "Both systems will sell out in the initial launch anyway."
On the Plus Side
Microsoft last week announced the extension of its Games with Gold promotion, which offers free Xbox 360 games to qualifying Xbox Live Gold members. The company hasn't yet announced if this promotion will be extended to the Xbox One.
Games with Gold has taken some criticism that its offerings are inferior to Sony's similar PlayStation Plus program, which also provides free games to subscribers each month.
"These are both a good thing for consumers, and it is a good thing that there is competition from the two companies," Pidgeon noted.
"The complaint about Games with Gold is that the games are older, but if you look at Plus, many of those games are older too," he pointed out. "For Sony and Microsoft, there is an upside to offering older games from the back catalog with little downside — and either way, it is still free games for the subscribers."