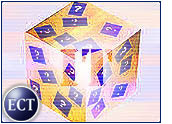 In mid-April, two days after Yahoo! announced plans to lay off 12 percent of its workforce in the face of a prolonged advertising slump, fellow portal iWon.com gave an Atlanta, Georgia man a US$10 million prize.
iWon, which lures Web surfers and shoppers to its Internet gateway with promises of potential riches, then said it would raise the stakes in 2002 to $25 million.
While Yahoo! has given up only a tiny portion of its dominant market share to iWon so far, the contrasting events raise a question: With portals and e-tailers failing regularly, how is that sites that give money away for, well, a few minutes worth of attention, are managing to survive?
Puzzle Play
iWon.com, the best known of a slew of sweepstakes sites that have hit the Web in recent years, is backed by CBS, among others. And it is that connection that might explain why iWon is being supported financially even when other sites are being cut loose by investors.
"It becomes part of a larger strategy to surround the consumer with brand identities," Forrester Research analyst Jim Nail said. Forrester estimates that $14 billion a year will be spent for online promotions alone by 2005.
Nail said iWon was part of the puzzle that helped convince consumer giant Proctor & Gamble to sign a massive marketing deal with Viacom, affording advertising time online, on television and in other media.
And the Winner Is?
iWon founder and co-chief executive officer Bill Daugherty said the site more than makes its payouts back in advertising, even in a down market.
One reason why might be loyalty. Users of iWon are among the most likely on the Web to return day after day, making advertising, at least in theory, more effective.
But the real reason, analysts say, is that iWon users have to turn over at least some personal information in order to qualify for prizes — and that information is as good as gold. While advertising on Yahoo! might reach a larger audience, a buy on iWon can be tailored to users by age, gender and economic status.
"That's a powerful marketing database and it's something that companies are used to paying big money for," said Nail.
Crowded Field
iWon.com, which drew more than 10 million unique visitors during May, according to Jupiter Media Metrix, has attracted plenty of imitators.
Excite launched Fastfreefun.com last year. Meanwhile, Vivendi Universal now controls all four of the Flipside sweepstakes sites, including VirtualVegas.com and Uproar.com, which has become a favorite promotional vehicle for Universal films, including the upcoming Jurassic Park III.
In fact, during May, the Flipside sites drew 12 million visitors, breaking into the top 20 online properties, according to Nielsen//NetRatings.
Proven Formula
So can giving money away still be deemed an effective way to do business in today's cash-conscious environment?
iWon had hoped to go public, but the company now admits that's a long shot. Nevertheless, iWon, which launched in the hectic dot-com boom times of March 1999 with $30 million in cash and $70 million in future advertising promises from CBS, says it can work in the long run.
And so far, at least, iWon has yet to be proven a loser.