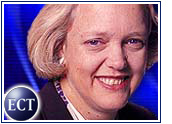 Auction giant eBay continues to turn out solid growth and profit numbers, announcing third quarter earnings Thursday showing revenues nearly twice what they were a year ago.
eBay earned $19.1 million (US$) or 7 cents per share for the three months ending September 30th. A total of $1.4 billion in goods was sold on the site during the quarter, and revenue rose 98 percent to $113.4 million.
"Once again, eBay had more economic activity than any other online e-commerce site," said chief financial officer Gary Bengier during an investor conference call. "And once again, the headline is growth and profits."
Strong Numbers Abound
In fact, the dominant online auction house reported record results in several categories, including registered users, which rose from 7.7 million in September of 1999 to 18.9 million this year, and the number of auctions hosted, which nearly doubled to 68.5 million.
The company also said that eBay continues to be among the "stickiest" e-commerce sites, with customers spending a total of 1.5 billion minutes on eBay sites during August alone.
The stock was up 7 5/16 at 64 1/2 early Friday.
Achilles' Heel?
The only apparent chink in the eBay armor was a decrease in per-customer sales, which fell from $91 earlier this year to $78 in the third quarter.
Analyst David Kathman of Morningstar.com said while eBay has attributed the lower numbers in the past to expansions into new markets, which typically draw small ticket items at first, the numbers could indicate that many visitors are just looking around.
Still, Kathman said eBay continues to impress with its growth and its "stranglehold on the Internet auction market."
Expansion Ahead?
eBay executives emphasized that while it built its fortune on auctions, the company plans to take its brand and customer base into the fixed-price market as well. The recently acquired Half.com will be expanded, the company said, and additional fixed-price platforms aimed at both businesses and government agencies will be rolled out in the future.
The company also said it will continue to look for opportunities to expand pre- and post-sale services. To that end, eBay recently launched a digital photo service to help sellers upload pictures of their products and has established partnerships to make service agreements and title checks available to customers of online car auction sites.
CEO Meg Whitman also stood by the company's recent prediction that it could be a $3 billion company by 2005, which would require steady 50 percent annual growth until then.
Whitman said that investors should expect strong growth in eBay's overseas operations and for the company to continue to seek strategic partnerships, such as those already in place with America Online and the Walt Disney Company.