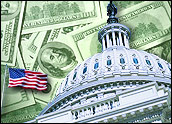 President Barack Obama made an overture to the business community, emphasizing the mutual benefits that come with a truly effective partnership between government and business, in a speech to the U.S. Chamber of Commerce last month.
Following up with a practical initiative, the White House has directed federal agencies to do a much better job of engaging with the private sector in contracting for information technology products and services. The Office of Management and Budget (OMB) has determined that the reticence of federal procurement officials to better engage with vendors during IT acquisition activities often can result in inappropriate purchases and the unproductive use of federal funds.
Daniel Gordon, OMB's Administrator for Federal Procurement Policy, told federal agencies dealing with commercial IT businesses to "remove unnecessary barriers to reasonable communication and develop vendor communication plans, consistent with existing law and regulation, that promote responsible and constructive exchanges."
Communications Gap
In a memo to federal agencies sent last month, Gordon noted that "federal IT contracts can be difficult to manage if the government's requirements are not well-defined or are developed with incomplete information about the market.
"In order to deliver the best results for the American people at the best price, agencies should increase communication with industry prior to the award of contracts," he said.
In some cases, the reluctance of government agencies to communicate with the private sector is both deep-seated and longstanding.
"The concerns of government people about talking with industry are driven by the fear of being criticized by the media, politicians or auditors for being too close to industry," Steve Kelman, professor of management at Harvard'sJohn F. Kennedy School of Government, told the E-Commerce Times. Kelman's view is shaped by his experience as administrator of the Office of Federal Procurement Policy from 1993 to 1997. During that time he was heavily involved in efforts to support the Federal Acquisition Streamlining Act of 1994 and the Federal Acquisition Reform Act of 1995.
"The atmosphere for encouraging communication is better under the Obama administration than it had previously been — when contracting issues had become very politicized due to the Iraq war. It will be helpful for contracting officials to have that Office of Federal Procurement Policy memo in their hands to rely on if they decide that more discussions with industry are in the government's interest," Kelman said.
"Most of the reluctance by the agencies came from a belief that talking with industry can be perceived almost like dealing with the enemy, and it had gotten quite caustic," Andy Robinson, chairman of the Industry Advisory Council of the American Council for Technology, told the E-Commerce Times. ACT-IAC has been engaged with the IT industry as well as with OMB in developing better government-industry relations.
Contracting 'Myth Buster'
In addition to the directive, OMB issued a "Myth Buster" document listing 10 contracting myths that impede federal officials from communicating with private sector firms. Using references from Federal Acquisition Regulations (FARs), standing policies and ethical guidelines, OMB responded to each myth.
"The myth busters campaign could be very helpful, as long as it is embraced at the contracting officer level. This is where the rubber meets the road on procurements and where the cultural change of 'not talking to contractors' needs to change," Robinson said.
Contracting issues covered by the myth busting document:
Broadening vendor choice: OMB rejected the myth that "getting broad participation by many different vendors is too difficult so we're better off dealing with the established companies we know." OMB countered that "government loses" when vendor choice is limited to those already working with agencies. "Instead, we need to look for opportunities to increase competition and ensure that all vendors, including small businesses, get fair consideration," OMB said.
"Government has a responsibility, I think, to expand the knowledge base and not settle for incumbent contractors," Tim Young, senior manager at Deloitte Consulting, told the E-Commerce Times.
"Contractors who have done similar work for other agencies, or who have worked on similar projects in the private sector should be included in the request for proposals (RFPs). The idea is to leverage the capabilities that are available," he added.
Avoiding contractor protests: Many government officials strive to avoid protests at all costs. But the notion that the fewer the bidders there are, the fewer chances there are for a legal protest of a contract is totally misguided, said OMB.
IAC's Robinson agreed. "Limiting conversations with industry has quite the opposite effect, as it spawns the idea in industry's thinking that the only way to find out what the real story is on a competition is to file a protest. Whereas if simple communications were to take place it would clear up quite a lot and hopefully reduce protests," he said.
Pre-bidding contacts: Federal contracting personnel are often reluctant to meet with vendors prior to issuing a solicitation for a variety of reasons. Chief among them is that such meetings could violate regulations prohibiting favoritism. OMB recognized that vendors also have concerns about such meetings because they are worried that involvement in pre-solicitation discussions might lead to exclusion from bidding due to conflict of interest concerns.
OMB explained that when an agency hires a firm for advice in shaping a project and fashioning a request for proposals, the firm providing the advice should be excluded as a potential bidder. But that situation "differs dramatically" from meeting with one or several vendors simply to assess potential capabilities available in the market.
"In the latter context, the government is not looking for impartial advice from one source, but is instead looking for a variety of options from a variety of sources, each one understandably, and reasonably, attempting to demonstrate the value of its own approach. These marketing efforts, in themselves, do not raise conflict of interest concerns," OMB said.
Post-award contacts: Some agencies take the attitude that losing bidders are not entitled to a post-award briefing for contracts issued through federal supply schedules (FSS). "Providing feedback is important, both for offerors and the government, so agencies should generally provide feedback whenever possible," OMB said, noting that FSS instructions actually encourage such contacts.
"Using the debriefings can really improve the quality of future responses to RFPs, and it can also help the agencies to improve the clarity of their requirements," Young said.
Support for Initiative
The use of traditional communication mechanisms such as "sources sought," notices or "requests for information" can be helpful, according to Robinson.
While Deloitte's Young acknowledged that such mechanisms can play a role, he was less sanguine about the effectiveness of the techniques. "Using more of the same methods in the same old way as in the past won't necessarily result in a better outcome," he said. "We need to improve the process with some more open and innovative approaches."
The effectiveness of the procurement reforms, including the myth buster initiative, remains to be seen — but OMB has garnered support from industry.
"We strongly support OMB. Clearly, the officials there thought this through. They didn't need new legislation or regulations, and they engaged with all the stakeholders including industry and many levels of government. I hope they make it all happen, and I'll be happy with any of the reforms coming into being. We need them," said Robinson.
"It's still early in the game to judge the effectiveness — but to make these changes work, you need to have all levels of government involved, not just the contracting officers," noted Young. "You need agency heads, ethics officers, and the inspectors general at the agencies all on the same page."