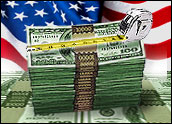 Despite the national effort to cut government spending, expenditures for information technology at the federal level will actually go up in fiscal 2012 compared with 2011. That's good news for vendors.
Federal agencies will spend about US$79.5 billion on information technology in fiscal 2012, which begins Oct. 1, according to the Obama administration's proposed budget. The funding level for 2011 is still a bit in flux because of Congressional moves to reduce spending, but the amount allowed by the Congressional continuing resolution (CR) when the proposed budget was released Feb. 14 is estimated at $78.5 billion. Spending for IT in 2010 was $77.9 billion. The 2011 to 2012 gain of $1 billion, however, does not indicate across-the-board increases for all agencies.
IT providers will have to dig into the details of the budgets of various agencies to gain clues to not only the direction of spending for each agency, but also specific project and program goals.
Compared with the 2011 CR levels, the Department of Defense, with a proposed 2012 IT budget increase of $800 million, accounts for 80 percent of the overall yearly gain in federal IT spending. DoD's proposed IT budget for 2012 is $37 billion.
The Department of Transportation will spend $3.7 billion on IT in 2012, a gain of $600 million. Much of that increase is the result of a special program — the implementation of the next-generation air traffic control system.
The Agriculture and Treasury departments also show significant gains for 2012 due to specific program requirements.
On the reduction side of the ledger, IT spending at the Department of Justice will drop from $3.1 billion to $2.6 billion. At the National Aeronautics and Space Administration, IT funding will be cut from $1.8 billion to $1.6 billion, largely as a result of winding down the current space exploration program.
Stable Spending Level
The administration's decision to maintain annual IT spending at recent levels rather than propose substantial reductions in response to highly politicized calls for spending cuts, is understandable and warranted, according to Paul Strasser, senior vice president at Dynamics Research, an IT management services company.
The proposal to maintain robust IT funding "doesn't surprise me very much given that the many missions of the federal government are critical and not easily unwound," he told the E-Commerce Times.
Strasser also noted the difficulty of proposing cutbacks in defense- related IT during a time of war.
In addition, the positive stimulative effect of IT spending during a period of economic weakness is a likely factor in maintaining high levels of investment, he noted.
Continuity is another factor in sustaining IT investments.
"I am not surprised at the proposal to keep spending at about the same level, because you have to keep services going when you are migrating or upgrading to reflect modifications in the programs," Karen Evans, partner at KE&T Partners, told the E-Commerce Times. Evans formerly served as administrator of the federal Office of Electronic Government and Information Technology.
The relatively flat level of federal IT spending from 2009 through 2012 is the result of more prudent management of IT resources, according to the Obama administration.
"We are cutting what we cannot afford, and deploying game-changing technologies," said U.S. Chief Information Officer Vivek Kundra at a budget briefing.
Between 2001 and 2009, annual federal IT spending jumped from $45 billion to nearly $80 billion, where it has remained stable since.
IT Management Assessed
Kundra pointed to several steps the administration is taking to address generic inefficiencies in IT management at federal agencies. One is to intensely scrutinize IT management with a goal of either turning around or eliminating one-third of "underperforming" investments. A second is to consolidate data management by reducing the number of federal data centers from 2,094 in 2010 to 1,284 by 2015.
A third component is to maximize the use of more efficient cloud configurations, not only for data center administration, but also for a wide range of IT applications including email and basic infrastructure.
One reason behind sustained spending is that savings generated by better data management and the cloud can be redeployed to bolster a range of IT capabilities, according to Kundra.
Although he is less sanguine about the amount of savings that can be generated, Strasser agrees. "The plan is somewhat realistic, but the savings will not be as great as some portend. As with most new technology initiatives, the barriers to entry offset the forecasted savings."
Using such tools as data consolidation and cloud-based solutions can be helpful, noted Evans, but success depends upon managing several factors.
"You also have to address records management issues, security issues, data integrity and data recovery. If this is not done properly, it could end up costing more versus reducing costs," she said.
"The real savings will come when they shut down legacy systems. Otherwise, they could increase the costs because they will be dealing with 'new' systems while maintaining the old systems," added Evans.
The goal of improving the management of federal IT resources has been an evolutionary process going back to the Bush and Clinton administrations, she observed.
The Federal Buzz: Notes on Government IT
NSF Seeks IT Vendor Data: The National Science Foundation is requesting information from vendors about their IT support capabilities. Vendors have until March 7 to respond. After receiving the information, NSF will likely initiate a procurement process with a goal of awarding a contract by the end of September.
NSF is seeking information from vendors about their capability to provide the agency with access to the SharePoint product via a remote hosted solution in three areas: 1) hosted software solutions; 2) Microsoft's SharePoint 2010 as a tool for collaboration, content management and documentation; and 3) NSF requirements for planning other support services ancillary to implementation and maintenance.
Responding to questions about the range of available support systems, NSF said its "focus" was on SharePoint 2010. Incumbent contractors for a SharePoint 2007 system at the agency include SAIC, Fpweb.net and Booz Allen Hamilton.
New Intelligence CIO: President Obama has designated Al Tarasiuk to become the chief information officer for the federal intelligence community at the Office of the Director of National Intelligence (ODNI). The position at ODNI is responsible for establishing common information technology standards, as well as for directing and managing all IT-related procurement across the intelligence community.
Tarasiuk, who served as CIO of the Central Intelligence Agency from 2005 to 2010, received the National Intelligence Reform Medal from the director of national intelligence in 2010 for significant accomplishments leading to the transformation and integration of the U.S. intelligence community.