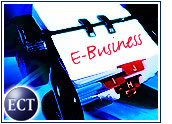 In the "real world," the opportunities for a new startup or even a small, established business to link up with some of the world's largest companies are few and far between.
But on the Web, teaming up the big boys and small fry is the order of the day.
According to Gartner analyst Robert Anderson, the list of major Internet and tech companies wooing small businesses to use their Web services, set up storefronts on their shopping hubs, or otherwise forge links, is growing all the time.
From Hewlett-Packard (NYSE: HWP), IBM (NYSE: IBM) and Microsoft (Nasdaq: MSFT) to Yahoo! (Nasdaq: YHOO), AOL (NYSE: AOL), EBay (Nasdaq: EBAY) and Amazon (Nasdaq: AMZN), small business can get a lot of mileage out of choosing big-name partners.
"The attention is turning to small and medium-sized businesses," Anderson told the E-Commerce Times. "As that happens, there are more options for those enterprises to take advantage of what the Internet has to offer."
Just Getting Started
And the Internet has plenty to offer, experts say, with just about any company — no matter how small or how specialized — able to capitalize on the Web in some way.
"If you lay out all that can be done, especially on a business-to-business level, you realize that most firms have only started to scratch the surface," Deloitte & Touche e-commerce analyst Aran Nathanson told the E-Commerce Times.
In fact, many small businesses may be doing several different functions online — from ordering office supplies to keeping in touch with customers — without having a unified Web strategy.
"You stand to gain more leverage if you use the tools together in a concerted way," Nathanson said. "Most companies don't know what they can do online until they start to explore the possibilities."
Choices, Choices
Amid the confusing array of options, companies must decide whether to outsource or build in-house information systems. Though analysts say that outsourcing is the best option for most small businesses, it might mean less flexibility in some cases.
If businesses do decide to hand their Web operations over to a third party, they still have no shortage of choices to make. Some of the best-known technology companies have made small business e-commerce a priority.
Yahoo!, for instance, already hosts thousands of shops for small businesses on its Yahoo! Shopping network, according to Yahoo's Stephanie Iwamasa. For a monthly fee and a commission on each sale, small businesses get access to one of the world's largest Internet audience bases.
"We have merchants of all sizes and types," Iwamasa told the E-Commerce Times. "We help deliver customers and we are able to provide our visitors with a wide range of shopping options in return."
Not Just E-Tail
Even for non-retail businesses, the Web has plenty of potential. While the initial flurry of activity surrounding business-to-business (B2B) purchasing hubs has cooled somewhat, businesses can find ways to increase their buying power through online groups.
Customer management efforts, such as keeping in touch with e-mail newsletters to drive more business, are also much easier to manage on the Web, said Satya Nadella, vice president of Microsoft's bCentral, which offers services to small businesses.
"Web-based services are most effective for small businesses when they are integrated," Nadella said. "We offer the chance for them to start slowly and build toward the time when much of their business applications are being done online."