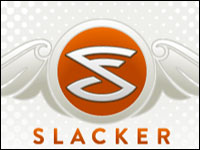 Slacker is getting ambitious about drawing in listeners, announcing Wednesday that it has launched the world's most complete music service for the Web, mobile devices and even automobile and consumer electronics platforms.
The 5-year-old Internet radio station's revamped service promises to give listeners anytime, anywhere access to millions of songs and hundreds of expert-programmed stations for free.
"Slacker is the most complete music service on Earth, with 10 times the music of Pandora, expert-programmed stations Spotify can't touch, and personalization that satellite services only dream of," said Slacker CEO Jim Cady. "We've quietly built a scaleable business with more than a half-million paying subscribers and more than 4 million monthly average users. 2013 will be a blockbuster year for Slacker as we ramp up our marketing efforts and take the service to a broader audience."
Clearly this is Slacker's attempt to take on the leaders in the streaming music category.
Breaking Pandora's Box
While Pandora currently dominates, it could be argued that's because it was there first. It is hardly the only player in what is a very crowded virtual dial.
Unlike rivals such as Spotify and Rdio, which provide more on-demand offerings, Slacker Radio could live up to its "slacker" moniker — at least with respect to the service that lets you sit back and let one of the more than 200 expert-curated stations pick the music for you.
Is this the right move for a company that isn't exactly new — or is this the only way the company can break Pandora's hold on Internet Radio?
"Slacker is pursuing the sort of upstart strategy common among lower-tier companies trying to move up the food chain," said Charles King, principal analyst at Pund-IT.
"That involves a combination of investing in improvements to your own products in hopes of attracting more paying customers, and contrasting your offerings in ways that put what competitors are doing in a negative light," he explained.
"In Slacker's case, that means building up a playlist that's significantly larger than Pandora and Spotify, hiring a new CMO, and committing US$5 million or so in venture funding to getting the word out via a new advertising campaign," King told the E-Commerce Times. "It's more like Marketing 101 than rocket science."
Paid Radio
A bigger question is whether there remains enough of a business opportunity to actually charge consumers who were used to getting all the music they wanted for free — if not from Internet radio than perhaps from an actual radio.
Slacker's strategy is to provide three tiers of service:
Free streaming via Slacker, which makes millions of songs and hundreds of so-called expert-programmed stations accessible from any device;
Slacker Plus, which offers a commercial-free experience with unlimited song-skipping for $3.99 a month; or
Slacker Premium, a $9.99 monthly service that offers on-demand access to Slacker's library of millions of songs.
Is any of this enough to draw in listeners — and, more importantly, create a viable revenue stream for Slacker?
"It's difficult to see the upside to Internet radio," said Billy Pidgeon, senior analyst at Inside Network.
"Internet radio is a commodity play with fractions of pennies allocated to various parties depending on multiple factors such as usage, delivery method and region," he pointed out.
"Businesses need access to complete libraries, and content owners tend to hold out for unrealistic deals," Pidgeon continued. "Advertising-based plays need larger audiences, but listeners have so many choices that audience size and quality are limited, restricting ad-revenue opportunities."
Revenue Streams
Efforts to increase revenue with subscriptions certainly will be hampered by competition from free ad-supported services — but the free model could also be a losing proposition.
"To date, Internet radio has followed one of two revenue models — or a combination of both: one, advertising-based, where programming is interrupted occasionally by paid ads; and two, subscription-based, which is typically ad-free," said King.
"Slacker is fully in the second camp, and is betting that listeners tired of ad-based services like Pandora will pony up $4-$10 per month for ad-free music," he suggested. "Royalty payments have certainly inhibited profitability, but finding a balance between paying artists appropriately for their work and establishing a royalty system appropriate for Internet-based services has been surprisingly difficult."
Neither system seems to be working, and Pandora has opted to zig while Slacker now attempts to zag. The question now is can either model work at all?
"Pandora's recent situation highlights the downsides to Internet radio," Pidgeon told the E-Commerce Times. "Margins are too low, licensing fees and royalties are too high, bands and musicians don't get compensated properly — and consumers can get all the music they want for free. It's a mess."
Pandora, Slacker and their ilk could be fighting a battle, while the larger war could be against other players that have the possibility to seriously disrupt, if not outright change, the course of music online.
"The elephant in the room is Apple's long-rumored plans to create its own music service, but frankly, Amazon is the bigger threat" said King.
"Just last month, the company began offering customers an option to have MP3 versions of all the song downloads and CDs they've purchased from Amazon automatically uploaded to the company's Cloud Player service where these can be freely streamed on demand, effectively making everyone their own DJs," he noted. "That's a business model Internet radio will find hard to meet, let alone beat."