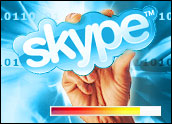 In a bid to raise awareness of its free software service for enabling voice over Internet protocol (VoIP) calling, Skype is hoping that a tried-and-true approach for online advertising and sales will bear fruit in its battle for market share.
Skype, which recently announced that it had surpassed 100 million downloads of its program, said it would try to convince Web publishers and bloggers to promote Skype by offering a 10 percent commission for all sign-ups and other purchases made through them at the Skype online store.
Though the Skype software and calls to other users of the P2P program are free, Skype has reported a sharp increase in people subscribing to enhanced services, including one that allows calling to traditional landline telephones.
The program will be managed by Commission Junction, which is widely used to manage affiliate payments among various Web sites.
Seeking Eyeballs
Jonathan Forster, manager of Commission Junction's UK program, said that given past performance of Skype, the program has "incredible growth potential and is already developing at a fantastic rate."
Skype is locked in a fierce battle for new customers to VoIP at a time when the market is booming and reaching the point where massive telecommunications and cable companies are beginning to
Speaking at a Paris conference on IP technology, Skype CEO Niklas Zennstrom said the system is similar to a model that Amazon used to funnel traffic to its e-commerce site. "Any Web site that's seeking stronger communications with its audience can benefit from this program," he said.
Skype said based on early response — some 1,800 sites signed up in the first two weeks of the program's availability — it expects tens of thousands of Web sites might link up over time to promote Skype. The approach is a twist on another growing trend of using Web logs, or blogs, to spread a corporate message.
Skype is hoping to bulk up its base of users, which Zennstrom said now includes 39 million subscribers, who make some 1.5 billion minutes worth of VoIP calls each month.
Independent telecom analyst Jeff Kagan said Skype, like U.S.-based Vonage, has been impressive in its growth pattern in that it has convinced millions of users to try out its software, many of them before the technology was getting much mainstream attention.
Collision Course
"The more customers these startups can acquire in the early days of VoIP, the better chance they have of withstanding the competition to come," Kagan told the E-Commerce Times. "The Baby Bells can offer a lot to customers, so building loyalty is important for the startups as well."
Meanwhile, Skype executives told a Paris financial summit that the company would be cash-flow positive for the first time in 2005. They also hinted that Skype was close to rolling out a host of new services, including business-focused services and WiFi calling.
Skype rival Vonage expects to have WiFi handsets, which can use home or office-based wireless networks as well as public Internet access hotspots to make VoIP calls, ready by the end of the year.
Those and other innovations can be expected to come fast and furious in coming months as VoIP vendors seek ways to differentiate themselves in a crowded field. Because IP calling is by nature a low-cost service, being the lowest-priced competitor will leave little room for profit margin, analysts note.
Instead, users are likely to base their decisions on broadband calling vendors based on enhanced features, such as number portability, voice mail and wireless calling, and on the bundles of services any given provider can offer.