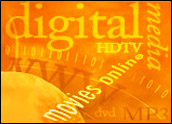 The creators of the peer-to-peer VoIP network Skype and the controversial file-sharing site Kazaa have unveiled their latest startup: Joost, an Internet TV company that they claim will revolutionize Internet-based television.
Janus Friis and Niklas Zennstrom formally announced Joost Tuesday, after months of speculation about the duo's latest creation, which had been known as The Venice Project.
The project was started shortly after they sold Skype to eBay for US$2.6 billion in Sept. 2005.
Joost launches in beta form, but its founders say it already offers a more TV-like experience for the video-sharing craze that has given rise to YouTube and other Web-based video efforts.
Joost offers a "secure, efficient, piracy-proof Internet platform that enables premium interactive video experiences while guaranteeing copyright protection for content owners and creators," according to the company, and say it will fill a "critical gap" in the current Web infrastructure.
"People are looking for increased choice and flexibility in their TV experience, while the entertainment industry needs to retain control over their content," said Fredrik de Wahl, the firm's CEO. "We'vemarried that consumer desire with the industry's interests."
Offering content owners a secure platform could help overcome any lingering reluctance to embrace the Web as a distribution channel. Google has been working aggressively to make YouTube that platform, striking content deals with many TV networks and film studios.
Alternative in Demand?
Still, indications are studios are not sold on the YouTube model — which was built initially to allow users to share home-made video and still thrives mainly on that content — is the right outlet for professional movies and TV shows. A recent report suggested several major studios are in talks about forming their own video platform.
As with YouTube, Joost would lean heavily on the social networking angle and on user generated content, the hallmark of so-called Web 2.0 applications. The founders claim that Joost was built to serve the needs of both advertisers and content owners.
It is also unique, the company stated, because it has global reach. "We've received positive and constructive feedback from our early beta testers and are now at a stage where we're ready to reveal ourtrue brand," said de Wahl.
As with Kaaza and Skype, Joost will use peer-to-peer streaming technology that the firm describes as "state of the art."
Checkered Past
In many ways, Friis and Zennstrom are among the architects of the Web 2.0 movement, writing the code behind Kaaza, which picked up peer-to-peer networking and file sharing where the original Napster left off, only to find itself in the cross hairs of the movie and music companies for enabling copyright infringement.
Later, Skype became the first of a new wave of IP-based communications startups, one for which eBay was willing to pay a premium.
Joost has some content deals in place, with Warner Music and several TV production companies. The company said that it would open the Joost browser to third-party developers to create plug-ins and featureenhancements.
In addition, the company said that its service will be ad-supported though the commercials will run less frequently on Joost than traditional TV ads.
The Joost team's track record suggests that they can become a disruptive force in the online video niche, though the sheer number of competitors — which includes every major Web portal including Yahoo and AOL — has or is developing its own video service offering.
Future IPTV Wars Possible
Several networks have established their own Web-based beachheads, which could make it difficult for any single platform or service to become dominant.
There are also several major IPTV (Internet protocol TV) startups, including Brightcove, in which AOL has invested, and Veoh Networks, which last year added former Disney honcho Michael Eisner to its board of directors.
"These are still the beginning days for the IPTV market," Will Richmond, president of research firm Broadband Directions, told the E-Commerce Times. The past two years have seen venture money floodinto the segment as more homes have become equipped with broadband Internet access.
It remains to be seen which model can best offer content delivery to suit consumers needs, which will likely grow to include content for PCs, TVs and mobile devices.
Cable and telecom companies will use their existing television assets to become the favored providers, but Internet players with strong technology and unique approaches can't be counted out.
"We're still in the stage where different business models and technological approaches are being tested out," Richmond said.