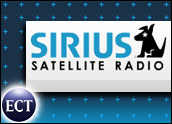 Sirius Satellite Radio's fourth quarter sales more than tripled over the previous year, beating analyst estimates, despite higher quarterly losses tied to heavy promotional efforts aimed at boosting its subscriber base, the company reported.
Sirius, which is locked in a battle for market share with XM, a much larger operation, said its loss grew to US$311.4 million on sales of $80 million. The per-share loss of 23 cents was a penny better than analysts had forecast.
Stern's Impact
Sirius aggressively courted new subscribers in the quarter, offering steep holiday discounts aimed at capitalizing on the impending arrival of shock jock Howard Stern, who made his satellite-only debut in January in a deal that will cost Sirius around $100 million per year.
Sirius gave a relatively upbeat outlook. Though it will continue to lose money for the foreseeable future, the company could be cash-flow positive as early as the fourth quarter of 2006, it predicted. Its $879 million worth of cash on hand would sustain it into next year, Sirius said, forecasting a loss of $540 million for all of 2006 on $600 million in revenue.
Earlier in the week, XM reported a wider than expected loss in the wake of a report that one of its directors had quit over grave concerns about strategic decisions influencing the company's direction.
Both Sirius and XM continue to invest heavily in their services. Sirius plans to spend $110 million on capital expansion in the coming year, including expenses tied to development of another satellite that it plans to launch by 2010.
The two companies have battled for marquee names as well. Sirius' big fish is clearly Stern, who heavily hyped his shift to satellite — where he will be less constrained by decency standards — on his traditional radio broadcast for much of 2006.
XM countered recently with Oprah Winfrey, signing a three-year, $55 million deal to produce an "Oprah & Friends" channel featuring lifestyle topics and advice similar to the content offered on her syndicated television show and in her eponymous magazine.
Light Ahead?
Sirius CEO Mel Karmazin said Sirius enters 2006 with "positive momentum," especially in its sales of its service through automakers such as DaimlerChrysler, Ford and BMW. It expects to double its subscriber base in the coming year. XM has generally done a better job of striking deals with automakers — GM, Honda, Nissan and Volkswagen are among its partners.
Last year saw Sirius add about 1.5 million subscribers from its retail channel and 620,000 through carmakers. The company ended the year with about 3.3 million customers and expects to finish 2006 with more than 6 million. By comparison, XM is now at the 6 million level and expects to reach 9 million by the end of next year.
The efforts of the two companies to spend heavily to acquire customers are reminiscent of the earliest days of the Internet, when companies would routinely spend hundreds of dollars toward that end. In this case, however, those who buy satellite receivers, which can run in price from less than $100 to several hundred dollars, and subscribe to the service may be more likely to remain loyal over the long-run, making the investment more likely to pay off.
Race for the Bottom?
The two companies have gone in somewhat different directions in their quest for subscribers, said Barrington Research Analyst James Goss, with XM signing Oprah, whom he called the "anti Howard," and both rolling out menus of entertainment, music and sports channels.
"These long-term deals are major up-front investments, but they can quickly pay for themselves if the companies lock in subscribers who stick around for any significant period of time," Goss told the E-Commerce Times.
Meanwhile, the market is likely to stabilize somewhat as early adopters give way to mainstream users of satellite radio — and as traditional radio answers the challenge by offering stronger digital signals and other improvements.
XM's early market share lead makes it the favorite in the long-term, said Banc of America Securities analyst Jonathan Jacoby in a research note.
"XM is better positioned for the longer term due to automaker share, tech lead, and a more leverageable expense model," Jacoby wrote. Sirius' fourth-quarter bump from the arrival of Stern may not turn into long-term market momentum, he added.