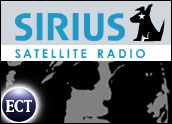 Satellite radio provider Sirius reported Tuesday that it added more than a half-million new subscribers in the third quarter, growth that helped it narrow its financial losses.
Sirius, which is still awaiting regulatory word on its planned merger with rival XM, said revenue for the quarter was up 45 percent to US$241.8 million from $167.1 million in the third quarter of 2006. The company cut its financial losses by 26 percent, posting a loss of $120.1 million compared with $162.9 million a year ago.
The company posted "solid results," thanks to "robust subscriber growth" and continued cost-cutting efforts, CEO Mel Karmazin said.
"We expect strong holiday season sales," he said. Those sales may help push the company to its first cash flow-positive quarter as well in the last three months of 2007.
Sirius ended the quarter with 7.667 million subscribers, a 50 percent increase over the same time last year. It added 524,938 net subscribers during the quarter, including 460,000 who were signed up through partners such as carmakers.
Sirius shares traded down more than 4 percent in morning trading Tuesday to $3.46.
Merger Mania
Sirius reiterated its previous guidance on the fourth quarter and said it expects to end 2007 with more than 8 million subscribers and have revenue for the year of close to $1 billion.
Sirius' sole competitor and would-be merger partner, XM, released its results last week, posting a larger loss of $145.4 million compared to $85.5 million a year ago. XM cited higher expenses for its shortfall, but did manage to meet expectations for revenue, at $287.5 million, and added 315,000 new subscribers. XM said it ended the past quarter with 8.57 million subscribers.
As for the $13.6 billion merger between Sirius and XM, Karmazin said in a conference call that he remains optimistic the deal can clear regulatory approval by the end of the year.
The companies are ready to begin integration work immediately and will have all the other needed approvals in place, with shareholders of each company set to vote on the deal on Nov. 13.
"Assuming we get approval on a Monday, the assumption will be that the transaction will be closed on Tuesday," Karmazin said. The CEO also cited growing public opinion in favor of the deal, which he suggested was boosted by the decision in July by the two companies to announce they would offer a la carte programming if the merger goes through.
"Virtually all of the opposition to the merger has been directly or indirectly generated by those who fear enhanced competition," he added.
Sirius and XM are arguing that they compete with all other forms of portable music, including MP3 players and music phones and that the Federal Communication Commission (FCC) should consider the bigger picture when deciding whether to allow the merger to be consummated.
With the merger decision looming, recent quarterly reports have all been viewed through the lens of the deal, said Yankee Group analyst Mike Goodman. Sirius has clearly been the winner more recently, with Karmazin's massive investments in programming — including the decision to lure Howard Stern away from terrestrial radio with a five-year deal worth $500 million — apparently paying off.
"Both carriers have managed to keep growing and focusing on execution even as the merger question lingers," Goodman told the E-Commerce Times. "The real news for these businesses is when and if the merger gets approved."
Still Executing
The merger has gotten a considerable boost in recent days, with 11 members of Congress signing a letter to FCC Chairman Kevin Martin urging the commission to approve the deal, citing enhanced consumer choice as the main reason.
The fact that both companies are adding subscribers at a respectable pace is impressive given the uncertainty hanging over the satellite market as a result of the merger plans, JupiterResearch analyst Barry Parr told the E-Commerce Times.
If the deal does not go through, for instance, the financial stability of XM may be in doubt given its continued steep losses.
"Consumers may be more confident that the deal is going to be approved in some form," Parr said, and Sirius in particular appears to have found good automaker partners willing to aggressively market the service in new vehicles.