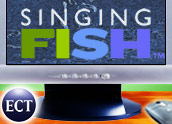 Singingfish.com is fine-tuning its image with the launch today of a revamped multimedia search engine on its Web site that specializes in finding audio and video content.
This marks the AOL property's transformation from developer and marketer of multimedia search services to companies like RealNetworks to a strategically positioned player in the consumer space with an index of 14 million files.
The service is designed to make it faster and easier for consumers to find, explore and experience multimedia content across the Web.
Free Media Universe
"The new Singingfish.com site provides consumers with a unique search destination to find high-quality audio and video content from across the Web," Karen Howe, vice president and general manager of Singingfish, said.
"There are millions upon millions of downloads and streams available on the Web, and it's all waiting to be discovered. From the conventional, such as news clips and music files, to the peculiar, Singingfish.com is the destination to find and explore the universe of free media," Howe said.
Singingfish.com executives figured with the growth and consumption of streaming media comes the need for a comprehensive search tool that goes beyond regular text search results and specializes in finding audio and video content.
Golden Opportunity
Industry watchers said there is a golden opportunity in a growing online multimedia market. RealNetworks estimates that every week an additional 350,000 hours of streams are encoded in Real formats, and Alexa Research estimates that the amount of streaming media on the Internet grows by more than tenfold every six months.
According to a Arbitron/Edison Media Research study in March, more than 50 million Americans used online audio or video in one month; four in 10 Americans have listened to Internet radio; and nearly one in four Americans has viewed Internet video.
Kevin Lee, CEO of Did-It, one of the largest search engine marketing firms in the country, told the E-Commerce Times that increased broadband penetration is opening new revenue streams for e-commerce and search engines like Singingfish.com are in a prime position to cash in.
"This is a good time for Singingfish.com to make a push in the consumer market," Lee said. "If they can convince customers that they are the best source for searching multimedia files, then they can get advertisers like Napster and iTunes through their Paid Inclusion program. This is an opportunity to tap the e-commerce side of search."
The Singingfish.com Skinny
New Singingfish.com search features allow users to save and share search terms and exclude content not suitable for minors. Search results, which are based on ranking and relevancy, also list the length of a particular file, its format and bit rate, and the source for the media.
An "I'm Bored" button directs users to sites where they can explore a number of quirky and unusual video clips designed to entertain and amuse; and an "Explore Area" lets users check out the most popular searches of all-time, recent top searches and staff favorites.
Through a combination of human interaction and automation, Singingfish.com has compiled a broad index of multimedia content that is readily available on the Web. The company said thousands of searchable streams and MP3s with thousands are added daily.