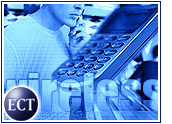 German electronics firm Siemens is partnering with three of the world's largest mobile products manufacturers to develop an open and common industry framework for secure mobile electronic transactions, the companies said Wednesday. The alliance, dubbed Mobile E-Business Technologies (MeT), was launched in April by Nokia, Ericsson and Motorola, and is concentrating its efforts on creating a safe and easy way for users to make purchases with a Web-enabled mobile phone.
"Consumers must feel that their mobile devices are personal and secured according to their individual needs," said Jan Ahrenbring, vice president of marketing and communications at Ericsson.
Technological Building Blocks
To help bridge the virtual and physical e-business worlds, the initiative is calling for the development of new technologies to augment existing ones. "Only this way can we achieve the critical mass to create a powerful de facto standardized framework for mobile transactions worldwide," said Martti Granberg, a director for Nokia and chairman of MeT.
The four companies will draw on existing Wireless Application Protocol (WAP) security standards such as Wireless Transport Layer Security (WTLS) and Wireless Identification Module (WIM), wireless Public Key Infrastructure and Bluetooth.
Digital signatures and cryptography applications for transaction verification, confidentiality, and authentication will also provide an added layer of privacy protection, they said.
Bevy of Services
By integrating these technologies with already implemented remote payment schemes, the alliance said that mobile devices will be able to provide a bevy of consumer services, including the ability to bank and trade, use personal credit cards, participate in loyalty and bonus programs, and purchase tickets.
The companies also say that mobile operators will prove to be an integral part of the mobile e-commerce value chain and stand to greatly benefit from such consumer-driven applications. In addition, the operators are well positioned to build a number of personalized e-commerce related services for their customers.
"The objective of the MeT initiative is to leverage mobile transactions through open standards and wide industry support," Granberg said.
Roadblocks to Success
Although the advent of mobile commerce is being widely touted by many industry manufacturers and analysts, many roadblocks stand in the way of its success. Included are the absence of a mobile telecommunications standard, slow bandwidth, small screens, high cost and patchy service.
A recent report from Forrester Research found that while the European and Asian markets have demonstrated high interest in wireless technology, two-thirds of North American consumers remain wary of making purchases via Web-enabled cell phones.
A separate study conducted earlier this year by research and consulting firm Ovum said that consumers may not be willing to pay for services simply because they are wireless. In order to significantly penetrate the consumer market, next-generation wireless technology will need to displace current WAP capabilities, researchers said.
Others, however, offer a rosier outlook for the public's acceptance of the technology. Research firm International Data Corp. (IDC) predicts that by the end of 2002, Internet-enabled wireless device users will outnumber wired Net users.