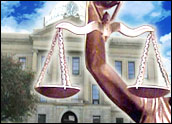 Allies have begun taking sides in a court case that has far-reaching implications for the Internet. At stake is a practice at the heart of the Net: linking information between Web sites.
The case pits search Goliath Google against adult entertainment publisher Perfect 10, and is currently before a federal appeals court in San Francisco where supporters of both sides have begun showing their colors through "friends of the court" briefs.
The latest groups to trumpet Google's side in the case are the Electronic Frontier Foundation (EFF) and the Library Copyright Alliance, a group of library associations.
'Harmful to Internet'
In their document filed with the Ninth Circuit Court of Appeals, the groups argue that Perfect 10 seeks to broaden the copyright law in a way that will be harmful to the Internet.
"Perfect 10 and its supporting amici urge this Court to expand the reach of copyright law to the four corners of the digital universe, ensnaring everyone from the individual Web surfer who comes across a Perfect 10 image online, to search engines like Google that index these images alongside billions of others on the Web," the document said.
"Like the District Court below," it added, "this Court should reject this effort to hold the whole world liable for the infringing acts of a few."
Irked by Links
What's irking Perfect 10 is that Google is displaying links that help foster illegal use of Perfect 10's skin pics.
"It's surprising to me that this case has gone as far as it has," Chris Sherman, executive editor of SearchEngineWatch.com in Boulder, Colo., told the E-Commerce Times.
He said that Perfect 10 requested Google not index images at the adult entertainment site, and Google has complied. "What Google has been indexing are illegal copies that other people have taken from the Perfect 10 site and posted on the Web," he explained.
Attack on Linking
In essence, Perfect 10's lawsuit is an attack on the practice of linking, according to EFF staff attorney Jason Schultz.
"Its theory is that merely linking to a Web site that has infringing content on it — even if you don't know it has infringing content on it — is an act that should make you liable to the copyright owner of whatever is on that site," he told the E-Commerce Times.
"That means anyone who runs a blog, anyone who forwards an e-mail link to friend, anyone who compiles a list of links on a Web site, those folks are as much at jeopardy as Google is under the theories that Perfect 10 have put forward," he argued.
Black Thumbnails
Although most of Perfect 10's arguments were rejected by the lower court in the case, that court did sustain one contention: that thumbnail images used by Google to link to infringed content were illegal.
"If that ruling stands, image search, in general, can be threatened," Attorney Jonathan Band told the E-Commerce Times.
Band filed an amicus brief in the case for the NetCoalition, Computer & Communications Industry Association, U.S. Internet Service Provider Association, Consumer Electronics Association, Home Recording Rights Coalition, Information Technology Association of America, and Internet Commerce Coalition.
"What Google is doing, everyone else is doing," he added. "If 'fair use' doesn't cover thumbnails, then that's a big problem for image search."
Resident Hair Splitting
The result from a Google image search displays a thumbnail at the top of a Web page and a full-sized image below it, explained Stanley Pierre-Louis, an intellectual property attorney with Kaye Scholer in New York city and a former RIAA senior vice president for legal affairs.
"The court ruled in this case that the thumbnail version that Google creates is likely to be infringing if the case goes to trial, but the larger image would not be infringement by Google because that displayed copy is not resident on Google servers but, rather, on a third-party server," he told the E-Commerce Times.
Supporting Perfect 10 in the case are the Motion Picture Association of America (MPAA), the Recording Industry Association of America (RIAA) and American Society of Media Photographers.