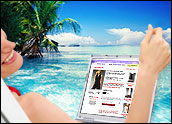 Online shopping is the fastest growing multibillion-dollar business in the world. Yet, the customer experience of online shopping is much the same as it was upon creation, more than a decade ago — essentially an online catalog.
Instead of finding ways to excite and entertain shoppers through rich and expressive sensory experiences, as retailers do in physical stores, they are abandoned, clicking their own way through a maze of Web pages — a process that typically loses more than 95 percent of visitors before they can complete a purchase. On most sites, nearly 50 percent of shoppers abandon their shopping carts after clicking the checkout button.
The successes of online catalog shopping demonstrates the power of efficiency and convenience. However, we are now on the verge of a dramatic revolution to a new generation of shopping driven by the pervasiveness of broadband and a fundamental shift in the way consumers are participating and interacting online.
Other Generations
In the first generation of shopping, Shopping 1.0, the full shopping cycle — awareness of product, review of choices, selection, purchase and consumption — occurred within a single store visit.
With the advent of paper catalogs (and later their Internet-based cousins), Shopping 2.0 deconstructed this tight shopping cycle into separate activities — awareness through mass advertising, selection and purchase through images and descriptions outside of the store context and when it was convenient for the consumer to do so, and delivery and consumption at a later date when the product was delivered to your home.
We are now entering Shopping 3.0, which combines the high-touch, unified shopping life cycle of the physical store with the convenience of the online/paper catalog.
Navigating the Channels
With the continuing breakup of mass media, the Internet is taking center stage as the dominant channel for brand awareness both through explicit advertising and marketing, and also through implicit word-of-mouth buzz driven by the Web's flourishing social communication and networking facilities.
Likewise, product selection is becoming driven more and more by the Net as the dominant source of information, reviews and recommendations fueled by broadband video and audio and ever-increasingly sophisticated interactive shopping experiences. Finally, while fulfillment will always have to involve some form of delayed gratification, the customer service experience is being hugely enhanced online through highly-responsive online help services, "click-to-call" solutions and Voice over Internet Protocol (VoIP).
These phenomena are effectively compressing the separate elements of previous shopping experience cycles into a single online medium — but with entirely new rules. The awareness and selection cycles are being increasingly driven by the two-way interactive medium of the Web where the voice of the brand marketer must compete for attention with the voices of the end-consumers themselves. Even customer service is moving from a tight, centrally-controlled business process to an open forum environment, full of information (and also disinformation). The online experience is becoming the brand itself.
Experience Share
Brands in the Shopping 3.0 world become synonymous with their online presence, and thus compete not only with their traditional marketplace rivals but with all the other brands that are trying to own a slice of their consumers' experience. In a bustling environment of overlapping, multitasking activities, the true competition is for "experience share" instead of conventional market share, and retailers cannot sit back and continue to assume that their consumers will necessarily seek them out amid the explosion of addictive and enthralling online destinations.
The Internet is very much a double-edged sword. On the one hand, it is an extraordinarily powerful mechanism for direct interaction and sales with consumers, but on the other, it enables new and old upstarts to insert themselves, as they wish, into a marketing and shopping life cycle that was once the retailer's exclusive province. Because we no longer have control over how shoppers are being led to retail brands, there is significant danger that our brands will be devalued by others who grab the lion's share of engagement before the shopper ever reaches our sites.
Bluntly put, the paper catalog experience translated into electronic format is no longer going to cut it. If our engagement model does not fascinate and delight, we will lose experience share to those who do, and our brand equity will suffer accordingly.
To compete successfully in this new market, online retailers must dramatically revamp the entire experience of shopping by addressing the following areas:
Rich Experience. The first and most important step for retailers wishing to move into the Shopping 3.0 world is to abandon the paper catalog metaphor as embodied in conventional page-based Web sites. Broadband connection speeds, coupled with Ajax and RIA (rich Internet application) technologies, enable Web sites to become immersive, interactive and media-rich experiences instead of a static series of "pages."
Social Shopping. It is ironic that while the Internet is primarily a communications medium — linking billions of people together through email, instant messaging, social networking sites and blogs — today's shopping is a uniquely lonely and solitary experience. The Shopping 3.0 experience will enable shoppers to share knowledge and awareness of products and will bring the fun and excitement of shopping with friends and family to the online world.
Rich Content. Competition for experience share will require online shopping sites to be as engaging and interesting as possible. Static pages of text and pictures must give way to more interactive and entertaining media including video, audio, games, live auctions, giveaways and other forms of content.
Omni-channel. As the Internet evolves from a fulfillment channel to becoming the primary touch point for the retail brand, it is absolutely critical that the online experience embrace and embody all the other channels. Because consumers cross channels with ease, their experience must be seamless and consistent regardless of how they initiate and complete a given interaction. Customer service in particular must be able to guide shoppers smoothly through their issues regardless of channel boundaries.
Shopping in the 3.0 era will move from a solitary, utilitarian task built around convenience to a destination activity where consumers specifically seek out the sites that offer rich, entertaining and exciting experiences that they can share with their friends and families.
The retailers, marketers and brand managers who embrace and drive these changes will be richly rewarded with deep and lasting brand loyalty which will benefit all of their fulfillment channels. Those who can't make the leap into the 3.0 world will be left further and further behind.
---
Joe Chung
is cofounder and CEO of
Allurent
, a provider of e-commerce products aimed at creating compelling online shopping experiences.
---