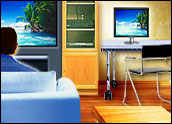 Betting that consumer demand for high-end electronics devices such as plasma TVs and digital cameras will continue to surge, Sharp and Fujitsu each announced major investments that will result in manufacturing capacity being quickly brought up to speed.
Sharp said it would spend about US$1.75 billion to expand its ability to crank out liquid crystal displays (LCD), saying that current production levels can't meet demand. In addition to high-end TVs, LCDs of various sizes are used in mobile phones, portable gaming devices and laptop computers.
Fujitsu, meanwhile, said it would invest about $1 billion in a new semiconductor plant that will feed a range of consumer electronics products, including flat-screen TVs, DVD recorders and digital cameras.
Plasma vs. LCD
The new investments from the two Japanese companies — both will build their plants in Japan — were announced just a day after Matsushita Electric Industrial said it would invest about $1.6 billion to build what will be the world's largest factory for plasma displays, which are vying with LCD TVs for market share.
For Sharp, boosting production of LCD sets will enable the technology to compete with plasma screens on price in the consumer TV market, company president Katsuhiko Machida said at a news conference announcing the investments.
"We are set on achieving a production structure that will not take a back seat to plasma in terms of cost," he said. When all plants are at full capacity, Sharp said it would have the ability to produce some 20 million 32-inch LCD sets per year. "Right now we are not able to supply enough product to meet demand," he added.
A dramatic rise in sales of flat-screen televisions is expected as prices drop and as older technology that doesn't allow for digital and high-definition broadcasts is phased out, forcing more consumers to upgrade. That comes against a backdrop of rising consumer demand for a host of gadgets that use chips, from mobile phones and digital cameras to game consoles and high-end DVD players.
No Dips for Chips
Fujitsu, meanwhile, has its eye on the larger chip market, one that World Semiconductor Trade Statistics Inc. (WSTS) said was on track for 6.6 percent growth in 2005, 8 percent growth this year and nearly 11 percent expansion in 2007.
WSTS said consumer electronics, including mobile devices, will make up a large part of the increased demand as more devices fall in price and find their way into the hands of more consumers around the world.
Semiconductor Industry Association (SIA) President George Scalise said the story of 2005 was the "growing importance of the consumer in driving chip sales."
"The growing pervasiveness of microchips in everyday products and a strong underlying economy have combined to create a very favorable climate for the microelectronics industry," Scalise said.
He noted that a published list of the "greatest gadgets" of the past 50 years was "dominated by products made possible by semiconductors," with products that were once chip-free — such as TV-sets — now increasingly outfitted with their own computing power.
Other chipmakers have already moved to meet that demand, investing heavily in new plants to make thinner, more powerful processors.
Pumping It Up
Fujitsu said its investment will create new manufacturing space capable of producing as many as 25,000 65-nanometer chips per month, though initial plans are for production to be ramped up to 10,000 monthly when the facility begins operations in early 2008. With an existing facility nearby, the firm will be able to crank out more than 40,000 chips each month.
The plants will use what analysts say is a cost-effective 300-millimeter wafer process, which enables more chips to be built at once.
The shift in the chip market was underscored recently when Intel announced a major re-branding and marketing strategy that was meant to emphasize the role its processors can play in a host of devices that go well beyond its traditional strength in the PC niche.
A major driver is cost reductions, say analysts. Within three years, plasma and other flat-screen TVs have plunged in price from the $10,000 range to less than $3,000.
Current Analysis senior analyst Steve Kovsky told the E-Commerce Times that it's still not clear whether the market will favor plasma or LCD in the long run, making it somewhat risky for manufacturers to invest heavily on one technology or the other.
"For consumers, the outlook is bright, with more people able to afford flat-screen technology," said Kovsky. "For manufacturers and retailers, the developing situation may be a bit less joyous. As the overlap between LCD and plasma TVs becomes more pronounced, the decision of how to balance promotional and product development resources promises to become increasingly thorny."