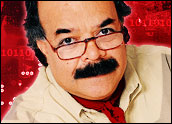 Every hour there are new changes to our old ways of thinking about traditional marketing rules. While we are all very deep into e-commerce, we must be aware of whether we are either already very successful or still learning the processes. Here are some cutting-edge rules to ensure good returns on e-commerce and Internet marketing.
Laws of Visibility
One is either highly visible or simply lost in the dark. Today, with millions of competitive pages on the Internet poised against one another, it is critical to be visible. Businesses are paying dearly to advertise on the Internet as a key effort in e-commerce and Internet marketing — and waiting for the clicks and hits. There is just no other way.
Lucky are the ones with a great name identity that directly helps them jump to the top of the search results or on the front page. Most names are just buried with the structural problems of their URLs and lost on search engines, however.
Discover the finer methods. Research the new rules of global naming so that your domain names can become visible and your name identity becomes a real asset.
Laws of Respectability
One must be sober enough to run a business or it's a hit and run project on the block. Shareholders and customers are very serious these days and are in no mood for companies turning their hard investments or monies into some joke. Days of silly personalities and overly exaggerated claims and weird ad campaigns, which often challenge the sobriety of the business, are pass. Internet branding images and corporate name identity must be respectable and trustworthy.
Laws of Dependability
One can deliver either what one says or they can produce smoke and mirrors. There is so much fakery out there; make sure that the delivery of goods and services is there to match the claims.
Everyone wants real things, services or any ideas that end-users can depend on. There is a lot of mistrust in the market, and one must create an environment with the overall business model and marketing message that clearly reflects the dependability aspects that will ensure the delivery of the promise — guaranteed. Otherwise, what is the point of the entire exercise of e-commerce and Internet marketing?
Laws of 'Memorability'
The business image is either worthy of remembering or the sooner one forgets it, the better. There has to be a way to remember the name and identity of the concept. If the business image is too complicated or way off target, then it is a wasted effort. There will be no residual or any brand value assets this way.
Endless spending of ad dollars will only keep the business image alive as long as it is in front of the face; seconds later it will be forgotten.
The art and science of having unique positioning with a true name identity is what makes an unforgettable personality.
Laws of 'Typeability'
A Web address can either be typed easily or it gets tangled in errors. Today, all domain names and URLs are typed, on large keyboards, small PDAs and too many other gizmos. Typing is now forced upon us no matter what. Simple and easy names are the best. Discover the new rules on how to make your Web addresses workable and free of typing challenges.
Laws of 'Globality'
One is either savvy on global e-commerce realities or not. One could be very local selling milk and honey from the local barn, or they could sell the same product across cities or countries. The customers are more easily accessible on a much wider bandwidth rather than one the width and length of the dirt road.
Globalization is a subject that should be taught in very early grades, and the more we understand this, the better. We all live and work locally, but we must reach out to the global corners, at least in our general and business understanding.
Laws of 'Protectability'
One either has all ideas and corporate image with name brands properly secured on the global markets or they are open to all kinds of exposure.
Registering a business or a mark in a single country of origin is just an elementary process. True, all companies do not have the need to set a global protection plan. However when a corporation starts spending large amounts of money in advertising and starts exports in a few major markets, then the first issue should be a globally protected name and identity. This will be the smallest outlay for such a huge and powerful asset.
Summary
Businesses, irrespective of size or any other component, must embrace new rules to cope with these new realities. The road to commerce is pretty clear and opportunities are there, provided one can navigate properly.
Corporate image design rules of the past are gone and so are the principles of old-fashioned mass marketing blitzes. What is now new is to aim for the targeted areas with powerful, unique global name identities and apply the latest of cyber-branding skills.
The laws of e-commerce and Internet marketing are just the right steps in the right direction.
---
Naseem Javed
, author of
Naming for Power
and also
Domain Wars
, is recognized as a world authority on global nameidentities and domain issues. Javed founded ABC Namebank, aconsultancy he established a quarter century ago, and conducts executiveworkshops on image and name identity issues. Contact him at
[email protected]
---