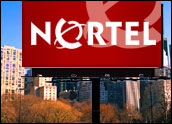 The U.S. Securities and Exchange Commission (SEC) on Monday filed civil fraud charges against four former executives of troubled telecom gearmaker Nortel Networks, which has spent the past several years embroiled in an accounting mess.
The executives had engaged in "accounting fraud to bridge gaps between Nortel's true performance, its internal targets and Wall [Street] expectations," the SEC said. The allegations cover nearly four years, from September 2000 to January 2004, the agency explained.
'Fraudulent Conduct'
Charges were filed Monday against former CFO and acting CEO Frank A. Dunn; Douglas C. Beatty, who served as both controller and CFO; former controller Michael J. Gollogly; and onetime assistant controller and vice president of corporate reporting MaryAnne E. Pahapill.
"The fraudulent conduct at issue here was egregious and long running," said Linda Thomsen, director of the SEC's Division of Enforcement. "Each of the defendants betrayed Nortel's investors and their misconduct gave rise to billions of dollars in shareholder losses."
The enforcement action is a reminder that the agency holds accountable all companies that trade stock publicly in the U.S. and that file reports with the SEC. Nortel is based in the city of Brampton in Ontario, Canada.
Nortel did not comment on the charges. The company's stock was off just pennies in midday trading Monday to US$28.02.
Numerous Allegations
Nortel executives received "significant compensation, in some cases in the millions of dollars, while they were manipulating Nortel's financial results. In some cases, these individuals received such compensation only because they manipulated Nortel's financial results."
The complaints allege that from late 2000 through January 2001, Dunn, Beatty and Pahapill changed Nortel's revenue-recognition policies as needed to meet forecasts. In addition, from July 2002 through June 2003, Dunn, Beatty and Gollogly improperly established, maintained and released reserves to meet earnings targets, fabricate profits and pay performance-related bonuses, the SEC stated.
The changed policies violated general accepted accounting practices, or GAAP — the net result was a $1 billion boost to Nortel's revenue in 2000 as the firm continued to meet or exceed Wall Street expectations.
In late 2002, the company realized it was carrying some $300 million in excess reserves, the SEC claimed, and Dunn, Beatty and Gollogly worked together to conceal those funds. Uunder GAPP, those funds should have been recognized as income.
In 2003, some of those reserves were released to help boost earnings results — during the first quarter, Nortel reported a profit when the company had actually lost money. At the time, a number of executives received "return to profitability" bonuses worth millions, the SEC stated.
Also, Nortel executives allegedly misled investors and the public when explaining why the company was reexamining past accounting records.
Specific charges include violation of and abetting violations of statutes covering fraud, reporting, bookkeeping and internal controls, and lying to auditors.
Dunn and Beatty are also charged with violations of the officer-certification provisions in theSarbanes-Oxley Act.
The SEC is seeking injunctions preventing the four from working in similar capacities, as well as unspecified civil monetary penalties.
Paying Up
Accounting questions have continued to dog the company. Hoping to put them to rest, Nortel in December won preliminary approval for a $2.45 billion payout to settle a rash of shareholderlawsuits.
Though the charges against former executives are a reminder of the accounting scandal, Nortel may finally be able to argue that those running the firm in the 2000 to 2004 time frame were responsible for the current problems.
"Every time Nortel thought it was done with these accounting issues, they seemed to return," telecom industry analyst Jeff Kagan told the E-Commerce Times. "It seems they have turned the corner and can get back to focusing on growing the business again."
The number of Nortel customers has grown exponentially, thanks to the company's rash of acquisitions that have dramatically consolidated the industry and, as a result, are demanding more favorable pricing from gear vendors.
By focusing on VoIP and video, Nortel may find traction under new CEO Mike Zafirovksi, a former Motrola executive, RBC Capital Markets analyst Mark Sue told the E-Commerce Times.
Nortel has forged partnerships with Microsoft that could lead to long-term revenue gains and has managed to score some telecom customer wins in recent quarters, a sign that customers and potential customers again have confidence in the company.