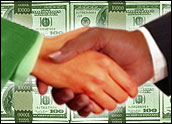 In one of the largest retail mergers in recent memory that could alter both the world of traditional retail and the e-commerce landscape, Sears Roebuck & Co. has agreed to merge with the resurgent Kmart chain in a deal worth US$11 billion.
The result will be Sears Holding Corp., which will become the third-largest retailer in the U.S. and have annual sales of nearly $55 billion.
The all-out merger comes after Kmart, which had emerged from bankruptcy with renewed vigor, had sold off dozens of its stores to Sears. It also sold off store locations to Home Depot, all part of efforts to further streamline operations.
Terms of the deal, which amounts to Kmart buying Sears, call for Kmart shareholders to receive stock in the new company on a one-to-one basis while current Sears shareholders can opt for either $50 in cash or one-half of a share in the merged company.
The companies said the merger provides opportunities for supply-chain savings as well as greater buying power from suppliers, something that number one retailer Wal-Mart has used to great advantage.
Investors rushed to buy shares of both companies on the news. In late morning trading, Kmart stock was up 16 percent, to $117.30, while Sears shares were higher by 21 percent, to $54.62.
Savings Seen
Kmart Chairman Edward S. Lampert, who will oversee the combined company, said the result will be a more profitable operation. "The merger will enable us to manage the businesses of Sears and Kmart to produce a higher return than either company could achieve on its own," he said.
Kmart has shown recent strength after emerging from bankruptcy 18 months ago, posting three straight profitable quarters since last year. But it has also seen sales sag amid competition from Wal-Mart, Target and others.
The companies said they would work to leverage each of their proprietary brands, which include Martha Stewart Everyday from Kmart and Lands End, Kenmore and Craftsman tools on the Sears side.
Some retail analysts said the merger was a nod to the success that Wal-Mart and Target have had at maintaining profitability while continuing to discount goods, a goal they achieve largely through constant improvement in the supply chain and constant reductions in supplier prices.
"The name of the game in the area of retail where these companies operate is price and performance," said analyst Ian Gordon of Sanford Bernstein. "The best way to keep costs down is to get bigger."
While there is some brand differentiation at higher price levels, discount shoppers are far more driven by price, he added.
Category Killer?
The companies did not say whether layoffs or store closings would result from the combination.
Also still up in the air is how the companies will merge their online operations. While neither is viewed as a category killer in the Web space, both have made significant efforts there. Kmart took a bold stab at Web dominance through its ill-fated spin-off Bluelight.com, which tried to be both e-commerce destination and online service.
Sears had dipped its toes in the online waters until it bought Land's End in 2002, a move that gave it instant access to one of the strongest direct sellers of apparel, both online and in catalogs. Sears has since dramatically ramped up its Web presence, creating a number of specialty sites for its various brands. Though the companies said they would integrate their Web efforts, the Land's End site remains almost completely independent.
Forrester Research analyst Carrie Johnson said neither company has made much of a market in the e-commerce space, but both will find themselves in an increasingly competitive online environment.
"Growth is starting to slow for e-commerce, which means more competition for the same customers and their spending dollar," Johnson said.
However, Sears and Kmart will have an advantage because they are multi-channel retailers. "If you factor in people who research purchases online, the Web influences $100 billion in sales," Johnson added. While several such retailers have mastered the multi-channel proposition, the door might still be open for discount retailers to claim the crown.
However, that opportunity might be fleeting. According to comScore Media Metrix, Wal-Mart.com has been seeing large growth in traffic, helping it pull it away from rivals. Even combined, Kmart and Sears.com traffic will lag that of both Wal-Mart and Target.