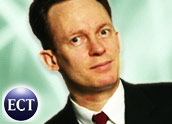 Two motorcycles collide, Ben Hur style, spilling four lads out across the roadway, slick with gray water. They pick themselves up, brush off their clothes, pull fenders and other peripherals back into place, then speed away. Not one harsh word is exchanged. Nor is there a single helmet among the lot of them.
Welcome to the old Saddar market area of Karachi, Pakistan, where computers, mobile devices, and other electronics are sold. Business is booming here, with goods flying out of the stores like birds freed from a cage.
There is a hunt going on. Nearby in the same old downtown area on the following night, I spot two men attempting to climb over an iron fence. They are the first Westerners that I've seen outside a hotel in more than two weeks here. They are attempting to cross a busy street and have become stranded by heavy traffic. I wonder if they will starve.
Leading the Market
The hunt I'm on is to discover markets for information technology in Pakistan and to find software and call center firms that will perform well if provided with outsourcing contracts from U.S. clients.
As U.S. firms attempt to follow the market into an increasingly saturated India, Indian firms are looking to lower their costs by coming to Pakistan, which is 30 percent cheaper than India for IT work and has an underutilized talent pool of English speakers and computer science graduates.
These Indian firms are onto something. Why follow the market when you can lead it?
Before the Boom
Karachi feels like the Bangalore that I knew in 1995, when I was there to help found a software startup specializing in artificial intelligence. That was before the boom that has strained the availability of high quality IT labor availability across all of India except Kolkata (formerly Calcutta).
Pakistan now has better long-term economic fundamentals than India did both then and now. With inflation at 4 percent per year, a good track record on reducing foreign debt, and a prime minister whose last job was as the No. 3 person at Citibank, Pakistan has been sending strong signals on investment and trade.
Pakistan taxes domestic IT services at 5 percent. IT products and services destined for international markets are not taxed at all. This compares to India's new 36 percent tax on foreign owned IT and research and development operations there. India will always have a strong position in the market for global IT services, but Pakistan's emergence signals new high quality, low-cost service options — and a less protectionist market for U.S. exports.
Back Alleys of Karachi
In the back alleys of this megalopolis of 30 million people (14 million in the city proper) on the shores of the Arabian Sea, I have yet to stumble upon a hidden outsourcing facility.
Staying in a rundown colonial-era mansion in downtown Kolkata a few years ago, I was surprised to find that an old horse stable on the property had been turned into an Oracle service center. It still looked like a stable. Inside the dimly lit room were rows of tiny monochrome monitors, manned by quiet workers, mostly women.
"Can you find us any Oracle work?" asked the mansion's owner.
"Can you find these people bigger monitors?" should have been my reply, "and a proper restroom?"
Here in Karachi, everything has been on the up and up, so far.
Expectations
In Karachi I expected to see a bunch of brand new companies going after bottom-end business from the U.S. In the call center space, there are almost a dozen firms like that in Pakistan now, compared to half a dozen merchant firms here that are going after high-end business.
Karachi has only seen three call center failures over the last two years, all small operations. In 18 months, this number is expected to increase as unprepared investors enter and exit the field.
Pakistan's government is pushing local investors to start IT businesses here. Because neither the government nor local investors have much of an idea about where new IT firms should focus, there is a risk that the IT industry will repeat the mistakes made over the last five years in India.
In India, the hype about IT drove countless entrepreneurs to engage in businesses in which they had no chance of success. In that country I've seen software firms open, maintain a full staff, and then close without ever implementing a single commercial contract. One in Chennai went on that way for three years. It's painful to watch and even more painful to try to work with people in those circumstances.
Established History
One surprise about Pakistan's software industry is that there are numerous well-established firms that have been in business here for a long time. Pakistani IT firms have been quietly doing work for international clients such as Amazon.com, Wal-Mart, and Fry's Electronics while those clients' slower competitors follow the herd into Pakistan's neighbor.
The oldest international outsourcing firm in Pakistan is Solutions, which started providing payroll-processing services in 1977 and now builds and customizes mortgage processing and escrow software.
A host of hardware support firms and ISPs have long histories in Pakistan too. International technology firms have generally not bothered to set up permanent support operations here. They have made minimal marketing efforts in Pakistan, or have done so indirectly, through languid Indian offices with no interest in selling or supporting anything in Pakistan.
How To Export to Pakistan
American firms seem clueless about marketing to Pakistan, constantly repeating the same strategic mistakes. Red Hat, for example, by selling to Pakistan through India, has seriously undermined its market potential in this country. Red Hat's Indian office reportedly hoards marketing funds and research and development resources. It also refuses to sell the full range of Red Hat products to firms in Pakistan.
Symantec's arrangement of selling to Pakistan through South Africa is another example of marketing ineffectuality.
American firms need to make direct sales relationships with distributors in Pakistan. Otherwise, they will continue to abandon the market to local firms and to the Europeans. Hiring non-resident Indians (NRIs) in the U.S. to head sales and marketing efforts directed at Pakistan invites problems.
Domestic Focus
Home grown IT service firms in Pakistan have tended to focus on the domestic market. A good example is ZRG.com. This Karachi-based firm builds and sells its own automated call distributors (ACDs), interactive voice response units (IVRs), recording devices, and other call handling solutions.
ZRG.com has never worked on a project that involved having its corporate customers make or receive calls outside of Pakistan. The scale of the projects that they have been involved in has also been small. ZRG's largest call center project to date is 225 seats.
Other Pakistani firms have taken U.S. products and provided ad-ons to make them faster and cheaper to use, as ArwenTech.com has done with Cisco routers.
E-Commerce
One firm to watch is InfiniLogic.com, which provides content to more than 4,500 e-commerce Web sites around the globe. Their sales people work closely with their technical staff to help make sure that clients' expectations are met. They hired overseas Pakistanis returning from the U.S., whose Americanized speech often causes clients to think they are dealing with a U.S. firm.
To expand their international presence, InfiniLogic's COO Ayub Khan went to a language school in Karachi and asked two German language instructors there to join his German language services section. To convince them, Ayub offered the instructors twice what they were making as teachers.
Ayub has turned down opportunities for mid-level or low-level call center work, preferring to focus on his firm's core e-commerce capabilities. It was a surprise to hear Ayub's perfect English accent, acquired growing up and working in England.
Competitive Position
Karachi's biggest surprise came at e-commerce infrastructure firm Etilize.com. When I asked their cofounder and CTO, Aamir Baig, who he was competing against, I expected that we were going to have "the India conversation" again. Instead, Aamir responded by saying that his competitors are in Israel and the U.S. One is also in Russia.
"India last year had IT exports of [US]$10 billion to $14 billion, whereas Israel had $35 billion," Aamir said, adding that Israel's population is only about 7 million people, including Palestinians. India, in comparison, has more than 1 billion people.
Aamir said that his firm is not going to compete with India for low-end work. Instead, he competes with firms in the U.S. and Israel — on the basis of brainpower.
Aamir has lived most of his life in the U.S., although he was born in Pakistan. Hip, handsome and well spoken, I asked him why he had chosen to move away from the U.S. and locate his e-commerce firm in Karachi.
"People are what it really boils down to," Aamir said, adding, "Pakistan was our natural first choice."
---
Anthony Mitchell
, an E-Commerce Times columnist, has beeninvolved with the Indian IT industry since 1987, specializing through
InternationalStaff.net
in offshore process migration, call center program management, turnkey software development and help desk management.
---